We Believe in Every Child's Endless Potential
Talent is made, not born. The potential hidden in every kid has no limits. Since their brain is most flexible in the first years, your task is to help them open up.
To facilitate the world's most demanding job, we designed tools that stand the test of time and spark young imaginations, letting their talents reveal through joyful, safe, open-ended play. 

We Believe in Fewer Toys at a Time
The all-encompassing philosophy behind the ChildUniverse brand advocates clear forms, simple designs, earth-friendly materials, and independence. We believefewer toys"in play" results in a healthier make-believe. So, theless-is-moreMontessori-aligned approach is what we gravitate to through all the stages of our work.

We Believe in Safe Play for Every Child
Whether it's a wooden nursery decor or a stacking toy, every detail is neat and beautiful, nourishing the senses with smooth lines. All wooden toys for kids are made of non-toxic materials (safe to 'satisfy' the kid's need to chew!).
To prioritize the long-term future, we make every name puzzle, Montessori play kitchen, child's play food or stacking toys for toddlers sustainable, reusable, and nature-inspired.
A Brief History of ChildUniverse
They say every brand is nothing more than just a group of people. Luckily, the people our company roofs are extraordinary, talented, dedicated to their work, and kind to others. Bingo!
If you wonder who we are behind the scenes, let us introduce…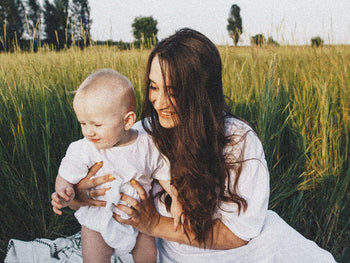 Ruslana Yakovenko
– a brand manager. Enjoying her parenting journey, she ensures ChildUniverse is represented authentically, consistently, and globally. "My daughterAriia is my muse, so eager to be the first to test our every other new product. Virtually no photoshoot goes without her."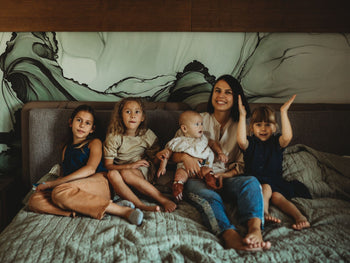 Maryna Fostenko
– a mother of 4 beautiful daughters, entrepreneur, and the creative mind behind ChildUniverse. Maryna has combined her artistic passions with environmental compassion to create quality and sustainable toys. "We're the change-makers to the children's universe," says a caring mom. "Today's toddlers grow up as digital natives. So rather than waiting for the change to happen in the toy industry, we have to create it ourselves."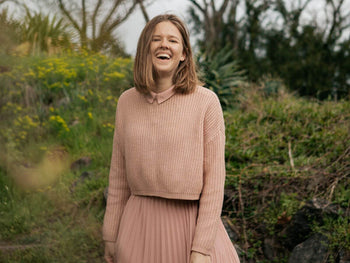 Lena Morgun
– a talented designer behind every other Child Universe bookshelf, play kitchen set, or clothing rack. It's due to her imaginative treasures that we can bring the magic of play to life."Kids themselves are an incredible source of inspiration. Sometimes just sitting next to them on the sofa to watch the cartoons they tune into daily is enough to understand their tastes and passions."
Starting a new brand is similar to a child learning to walk (and fall!). Given birth to Ariia, Ruslana started juggling the responsibilities of the project and her newborn immediately. Seeing how first uncertain-where-to-step-next Ariia was getting older (and inevitably more confident navigating life!) encouraged Ruslana to be open to change and take advantage of every moment. 
Ta-dah! There it was – our first wooden name puzzle! Made of eco-sound materials, it was to be an ideal gift and décor at the same time. The first customers came in no time. Excited and motivated, we focused on boosting all performance levels, from the production and safety checklist to supplier search and product line upgrade. The new brand, like a kid, began to sustain itself. The team could finally breathe easy while still keeping a close watch as a caring parent.
ChildUniverse Products Through the Years
Take a quick journey through the highlights of the ChildUniverse brand – from the dark and uncertain past to the sound and bright today.

2018 – 2020
Ah, the puzzle era! Milestone signs, photo props – wooden jigsaw puzzles for kids won the hearts of little customers and their parents.

2021
To organize a toy room that would look like photos found in magazines, we focused on producing name signs, kid's room night lights, growth chart wall decor, wooden alphabet puzzles, and other kid-friendly items. That's when we began to gravitate to the Montessori furniture, and the world saw our most immense pride – the front-facing bookshelf – aimed to provide every child with a safe and playful childhood. We were hiring new talents and bringing more like-minded on board. 

2022
February 24 split our lives into before and after. Russia's invasion of Ukraine left our production facilities destroyed. We put our brainchild on pause, leaving for other cities, countries, and even continents. However, it was in May that we began to restore our business from ashes (literally, in most cases). Starting in August, the new products from the furniture line went on sale.

2023 – now
Today, we aim to create a whole universe of unique products for kids. We craft wooden toys for kids, Montessori furniture, and décor pieces that promote independence, motivate, and shape the minds of their owners. Despite the ongoing war, we continue to work and grow together. We have a deep-rooted passion for what we do that keeps us sane, inspired, and strong to combat the challenges ahead.