What to Get Kids for Christmas – 10 Kids Christmas Ideas 2024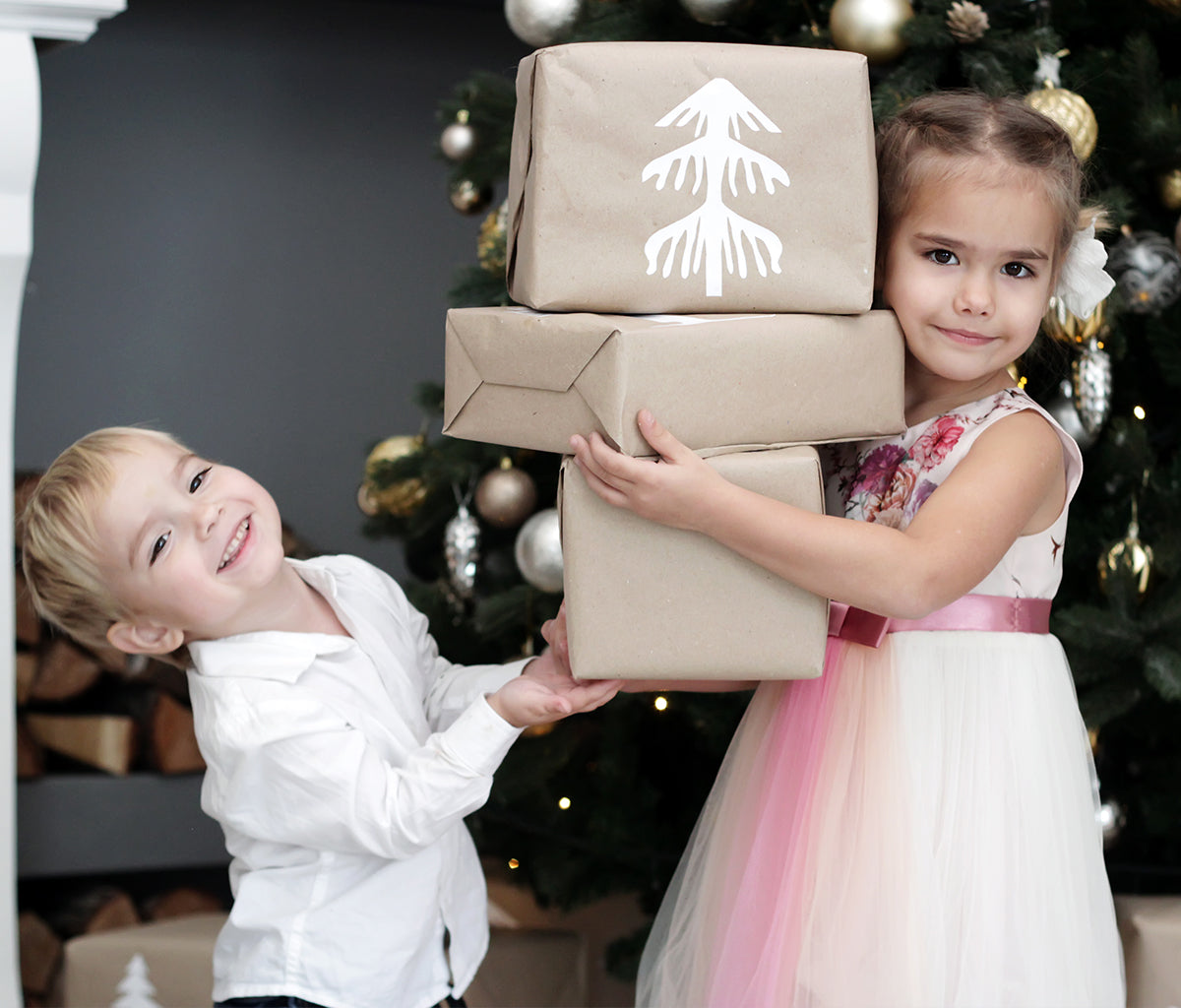 Christmas season is upon us, and your kids' wish lists have probably already reached the North Pole. Every year, you see the excitement in their eyes. The air is full of giggles and a strong sense of the anxious expectation of magic. For you, however, it's a completely different story, right? While the little ones expect Santa and Rudolf to come, you and your S.O. sneak to the kitchen to decide when Santa and Rudolf find room in their busy schedules to do Christmas shopping.
Fear not!
Children are picky. That's an axiom. But you can handle that list of demands and choose the best kids Christmas gifts 2024. And that's the theorem we're about to prove.
How Many Gifts Should a Child Get for Christmas
It starts from the look at the abundance of toys stuffed in closets, toy boxes, and any other place that a toy can fit. It kind of gets you thinking, "Is there anything else that my kid may need?" Well, let's face it. Today's kids' home assortment of toys would be definitely an object of envy of previous generations. From walkie-talkies and LEGO to ice cream makers and microscopes for little wunderkinder – children of the 21st century seem to have it all and even more. Is there anyone to blame? Yes. You. But that's just love. 
Parents tend to overbuy, looking for more and more kids' Christmas ideas and being absolutely sure the kids need to have the newest and the best personalized Christmas gifts for babies & kids. Based on the research by Lan Nguyen Chaplin, a professor at the University of Chicago, preschoolers (kids at the age of 3-5) clearly indicate that material gifts excite them more than joyful experiences. However, festive shopping usually ends with tons of preschooler Christmas gifts under the Christmas tree. And then what? You expect them to be extra happy with the gifts you spent a lifetime purchasing. But the reality is that the little recipient just opens up a box and…switches right on to the next, and the next, and the next. Appreciation is not included.
So, how many gifts to give a preschooler for Christmas would be a golden mean? When it comes to Yule gifting (or any other occasion), moderation is a must. Your recipient doesn't need 30 presents to feel happy. A couple of quality items chosen with the giftee and their interests in mind will work magic.
At ChildUniverse, we're here to save you from the Christmas shopping fever and keep your budget on track. Below are listed gift ideas for a preschooler who has everything and wants more.
Сhristmas Gifts for Little Girls
Looking for thoughtful kids xmas gifts for girls can be fun yet daunting. After all, you're buying something for a preschooler with interests and passions that are worlds apart from yours. Chances are you're about to pick something pink, glittering, unicorns, and ruffles. Stop. Give up on your gender stereotypes now. Not everything for girls has to look like a massive bubblegum pink cake. You'll see from the preschooler Christmas gift ideas below that one can make a little princess smile this festive season without going obsessive about gender-stereotyped toys.
#1 Christmas Gift for Toddler Girl 🌸
She's so cute in her endeavors to imitate adults in their routine yet she's your little girl for now. This age is so hilarious and adorable to watch, and so should be the little girl Christmas gifts. Seek out cute and stylish name puzzles that let little girls feel special and exercise their imaginations. Sophisticated and eco-friendly, this Christmas gift for a toddler girl will become the most memorable souvenir when little women grow into adults over a period of many years.
#2 Princess Nursery Decor 🎀
Take a chance to decorate your sweet girl's environment with some glamorous hints of sparkle and magic! The princess nursery decor varies so you don't have to be focused on dusted pink themes. From modern and minimal wall hangers and bookshelves (all handcrafted based on Montessori philosophy!) to time-tested name puzzles and princess-themed growth charts, Christmas gifts for kids girls will help you create the most feminine room and unforgettable festive memories.
#3 Pink Wooden Play Kitchen 💗
Let her become a real chef! It's a well-known fact that kids imitate their parents. And when they do that, the results are stunning. With pink wooden play kitchens sets, the kid learns how to do the culinary tasks on her own and so experiences what it's like to be independent. If you seek Christmas eve gifts for kids, there is a miniature pink wooden play kitchen with all the utensils needed to turn a solo game into a MasterChef show.
#4 Christmas Books for Kids to Read in 2024 📚
If you've got a little bookworm to gift-shop for, there are so many options out there to become a perfect addition to their personal library and one of the most personalized Christmas gifts for kids. What is it that you're looking for? Books to introduce and promote healthy habits? Books for deep dives? Or, perhaps you choose books to inform children about the topics they can't experience in real life? The options are endless. If you consider only Christmas books for preschoolers, here's a mix of new and classy favorites to fill your holiday book basket with:
🌟 The Sweet Smell of Christmas by Patricia M. Scarry

. A heartwarming story with a scratch-and-sniff element is one of the all-time favorites for the festive season.

⭐ It's Christmas, David! by David Shannon

. See how virtuously the author turns the good old x-Mas upside down and guarantees some good laughs for both the little readers and their parents.

🎄 Pete the Cat Saves Christmas by Eric Litwin.

A New York Times bestselling book offers a nice lesson to learn – work hard and never give up, even if things are getting tough!

✨ The Berenstain Bears and the Joy of Giving by Jan Berenstain and Mike Berenstain.

If you're looking for ways to teach the little ones about the joy of giving to others, you've found it.

🎁 The Christmas Miracle of Jonathan Toomey by Susan Wojciechowski.

Meet a touching story of Jonathan Toomey, the most talented woodcarver in the valley. Why does a man never smile? What is it that he hides in his drawer? Will there be a joyful Christmas miracle at the end? Of course!
#5 Montessori Climbing Set 💛
If you wonder what to get kids for Christmas and don't go for all things girly, how about making Christmas 2024 healthier? The Montessori climbing set is one of the Christmas gifts for little girl that looks so good under the festive tree and caters to their instincts to move, take risks, and climb. Besides, it looks stylish whatever interior you infuse it in.
Christmas Gifts for Toddler Boys
Oh, boy. When you struggle to gift-shop for a kiddie boy and wonder, "What to give my child at Christmas?" remember the well-known 5-gift rule. Based on the simple recommendation, you get something they want, something they need, something to wear, something to read. To cut it short, hunt for expensive or cheap Christmas gifts for kids that accurately reflect a kid's interests, talents, and personality. So, what is your boy into? Keep scrolling to get inspired for your next Christmas shopping tour. 
#1 Toy Parking Garage with Elevator 🚦
gifts for toddler boys is never complete without a toy parking garage with an elevator! With lots of parking spaces, the garage has all needed to accommodate cars and transport them between the floors. Equipped with a real elevator, the unit flawlessly imitates a real-life garage while being one of the inexpensive Christmas gifts for kids.
#2 Indoor Climbing Set ✨
Hunting for Christmas gifts for kids who have everything? An indoor climbing set could be an option. One of the fun xmas gifts for kids, the set helps munchkins boost motor skills, build strength, as well as become more independent in their moves. Surprise your young man with a climbing set that itself is a real booster for his confidence. As he makes it to the top, see how confident he feels about that. Don't forget to say how proud you are!
#3 Toddler Boy Christmas Gift 🎄
We strongly believe that nothing can replace personalized Christmas gifts for kids. Items like name puzzles will hold their attention for a very long time and help kiddoes build counting, sorting, and motor skills. As they fit letters and get their brains and bodies focused on the process, moms and dads are happy that the toddler boy Christmas gift is not just an attention-grabbing toy but a useful something for kids' development.
#4 Children's Jump Rope ⭐
It's harder and harder to get them unplugged and go out for some exercise. God bless the manufacturers of a children's jump rope! Not only are they wonderful for cardio and some fun physical activity outdoors, but they also help little jumpers bond with their friends in a simple yet interesting game. 
#5 Dinosaur Nursery Decor 🎁
How many gifts should a child get for Christmas? No universal answer exists for that. However, the dino-themed kids Christmas gifts are sure to be a hit. Handcrafted in the form of growth charts, name signs, bookshelves, and many other décor elements, prehistoric playthings have been among the beloved Santa gift ideas for kids. Let's face it, they do remain the best Christmas gifts for kids 2024 as well.
Can't decide on Christmas gift ideas for kids? Don't worry. Feel free to browse special picks from ChildUniverse or even mix them. After all, if they receive duplicate gifts, that's OK! Not only will you delight the little ones, but you will also teach them a meaningful lesson about giving back. Knowing there are kids in need, your recipient will be able to donate to a charity. That's what Christmas is all about, and something you can make a sweet tradition out of. 
2 comments