10 Toddler's Physical Development Activities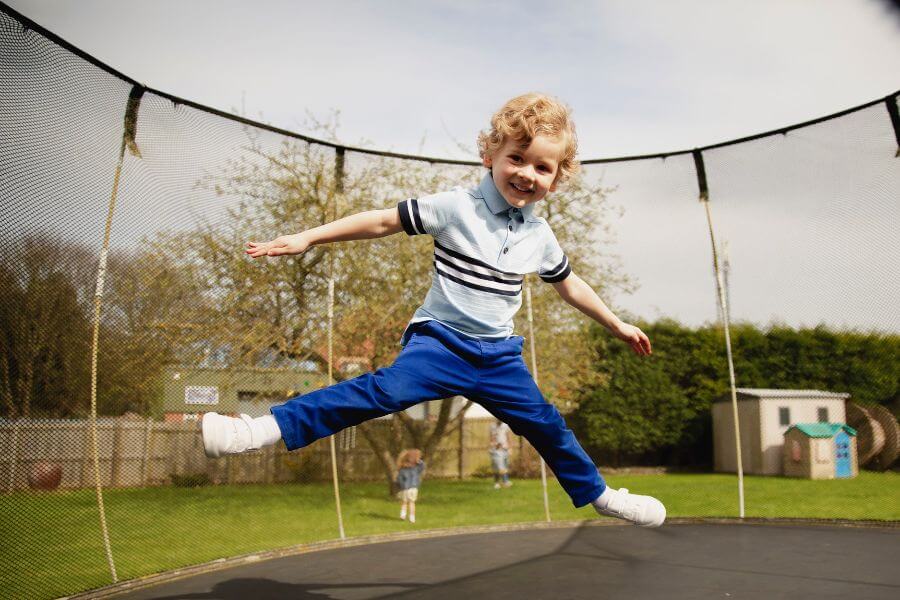 On This Page:
Nothing can replace regular physical activities. When it comes to toddler's physical development, engaging, creative, and fun P.E. games will make their journey to adolescence and adulthood healthier. All you have to do is encourage your tot to sit less and stay active. The best thing is that anything that gets kiddos up and moving will do. No need to follow a structured vigorous-intensity exercise program! Based on the "Physical Activity and Exercise Guidelines for All Australians," you give them freedom for active play and appropriate risk-taking while supervising the process, and…that is it.
Below, we will show you our top ten toddler physical development activities that keep tots engaged and excited to exercise.
Let's move!
1. Making Physical Play Fun
Whether you're busy making kid-friendly breakfasts, teaching them how to repair their broken stuff, or helping your child be more active, having fun is crucial for development as it benefits kids' gross motor, social, as well as cognitive skills. Small activities like singing songs, enjoyable movements, or games will bring excellent health and educational benefits. Whatever space or time you have for sports activities, as long as your child can have fun and stay active, it works.
2. Encouraging Free Physical Play
Let's face it, kids and their parents tend to benefit from independent play. That magical moment when little ones seem to zone out completely and get lost in an imaginary plot – what a relief! While they're so focused on what they're doing, you stay within reach to ensure they're safe. Although playtime might not last long, your task is to provide a secure environment. With 'tools' like an eco-friendly natural wood stacking toy or a Montessori play kitchen, kiddos are encouraged to play independently and stay active. See how the world around them is just fading away as they assemble a wooden name puzzle for kids. Sooner than you know, you become a parent of a self-sufficient child. 
3. Dancing for Toddlers
What are physical activities for toddlers without dancing? There's no need to be an expert dancer or always follow the music's rhythm. It's about getting your heart rate up while releasing some endorphins. Plus, dance works well for creative self-expression (for kids and adults!). Our previous article – "How to Encourage Creativity in a Child", – talked about how to unleash kids' creative potential. Without some good dance, that list wouldn't be complete! Not only will it become an incredibly fun fitness activity, but it'll also help fidgets be in the body here and now.
4. Taking a Walk
The trick is that physical development activities shouldn't be about reinventing the wheel. A short walk in the park can be an enjoyable journey to unknown lands for your curious toddler. Say hi to neighbors, count all black cats, make up some spooky legends covering the local monument, or play the "road is lava" game. All genius is simple.
5. Playing Catch with Your Toddler
Regarding physical activities for 3 year olds, feel free to include balls. Kids are usually over-excited about catching, throwing, or kicking balls! The best news here is that it's too early for premium match balls. A lightweight one is an excellent start for physical play, better hand-eye coordination, muscle development, fitness, etc. 
6. Blowing Bubbles
If the kids' outdoor play excites both munchkins and their parents, it's blowing bubbles. If you are browsing super fun physical activities 4 year olds or older than that, grab some bubble bottles for outdoor fun. Oh, don't forget that there are edible bubbles too! Not only will you get your kiddos moving, but you'll also keep the environment safe. Products like Bubble Universe will activate all senses – touch, smell, and taste – and help boost hand-eye coordination during healthy and fun play.
7. Playing with a Parachute
One of the most popular physical exercises for toddlers – parachute play – is typically associated with tons of energy and running all over the place. As children use large muscles to pick up and shake the parachute, they develop gross motor skills and interact with other players socially. Through cooperative play, social skills are being strengthened as well.
8. Swimming with Your Toddler
Swimming is an official panacea for all ills. It's a gentle, fun exercise that promotes mental/physical health in babies.  Having ensured their 100% safety, you will provide them with a unique chance to explore the world around them, boost their immune and cardiovascular systems, as well as learn vital skills. You can either go for pool or beach options or make the process more formal with an instructor. After all, the drowning risk of little ones who take swimming lessons is 88% less than those who don't. Besides, it's one of the effective ways to introduce sports to toddlers.
9. Going on a Treasure Hunt
Both excitement and exploration radars are on when it's time for a treasure hunt. Simply put, it's about you hiding something while kids are looking for and finding it. If possible, prepare all possible entourage outdoors. A local park or a backyard will do. An indoor alternative is viable too; however, if you need more room to get your imagination going wild – go out.  Make the hunt satisfying and fun by including jumping rope, running, knocking down bowling pins, squats, or any other moves to level up energy and exercise the mind.
10. Set up an Obstacle Course
Unexpectedness is the key to some compelling fun and keeping children occupied for as long as you need. That's what an obstacle course is all about! Build one to help youngsters (maybe you too?) have extra-active time. Provide as many stations as you want. While most guides mention 10 as the most appropriate number, your imagination, and equipment are the limits. Ensure each station includes a different challenge, activity, or movement that every participant must complete to get to the next level. Jumping into/out of something, crawling under a string, balancing on a balance board, jumping through hoops, running while balancing a book on a head – all activities are welcome!
Okay, where were we? Ah, right. It doesn't matter what fitness activity you get kids engaged in. As long as it quickens their pulse, makes them breathe faster, and includes you
supervising
them, you're on the right way.
2 comments