Why Front Facing Book Is Better For Your Children?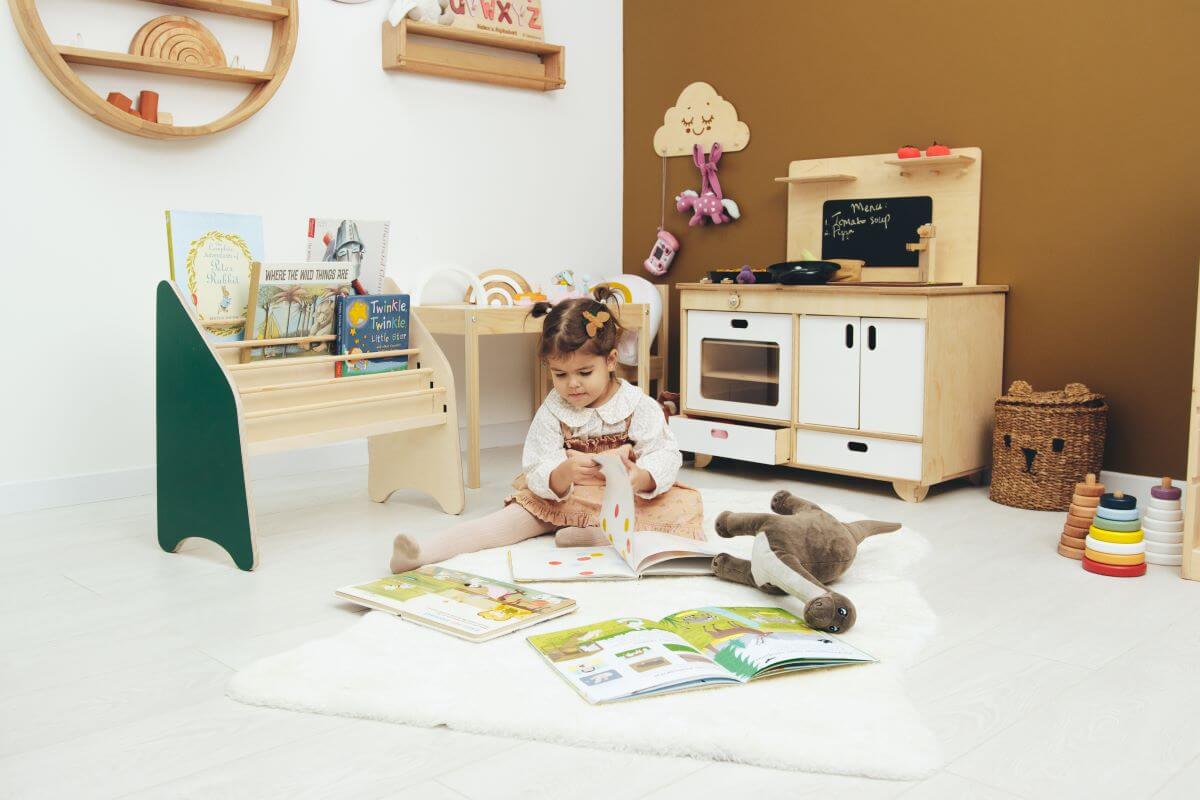 On This Page:
Reading at an early age helps the little ones express themselves. At the same time, it fills their minds with a deeper understanding of the world full of new concepts, emotions, and events.  

Being an enjoyable activity, reading is also a perfect stimulator for cognitive and social development. According to a world-known Maria Montessori, reading fuels up kids' imagination and expands background knowledge. The effects of reading on a toddler's development go far beyond that:
developing empathy;
improved literary skills
better vocabulary;
improved concentration abilities;
greater visualization of non-material things;
stronger language skills, etc.
The Montessori reading approach implemented by the famous Italian educator proves that getting your kid involved in reading must be enjoyable. Before you rush to google the tried and tested methods to teach the little one to make meaning out of print, consider investing in a front-facing book display. With all the benefits of the popular storage solution, you will thank yourself later.
Advantages of Front-Facing Book Shelves
So, what's the buzz about this book storage anyway?
Researchers see clear benefits of this simple yet effective element of Montessori room organization. In particular, books displayed with the cover facing out encourage the little ones to:
make independent decisions;
act without parental intervention;
recognize familiar images;
develop their own tastes;
cultivate organizational skills;
love reading and appreciate books.
Finally, the front-facing bookshelf is one of the toddler room essentials that perfectly match the kid's room, reading corner, playroom, or any other interior.
Discover the Forward Facing Book Storages Today!
If you're looking to create a Montessori-inspired home, a peaceful and calm environment won't be complete without a cute personalized front-facing bookcase. Without further ado, here are some of the most crucial features our products are equipped with:
front-facing design to allow your kid to see the whole collection of books at once;

made of natural wood, our products are safe for little readers;

gender-neutral decoration that doesn't distract kids from the books;

enough space to display books of different sizes;

mobility and easy assembly.
Finally, mom and dad can choose the dimensions of the bookshelves to ensure they fit the available space.
To sum up, the more kids read themselves, the better they will become at it. After all, practice really makes perfect. In the Montessori supportive environment, even the most reluctant little readers tend to cultivate reading skills naturally. Having your kids' library collection upright on the shelf encourages children independently choose the books that most accurately reflect their specific interests.
2 comments