How to Celebrate Easter with Toddlers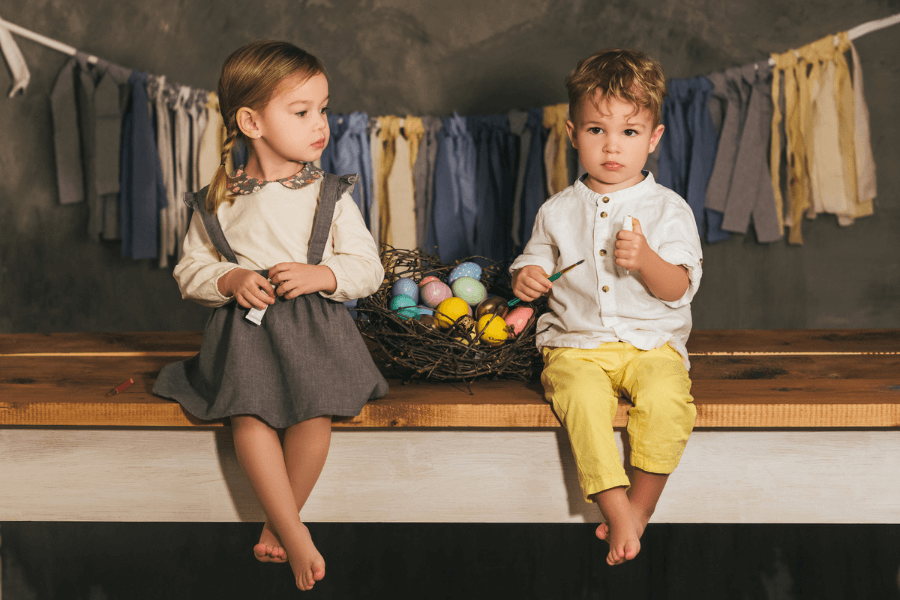 Easter is a special time for families, and creating new traditions with your little ones is always exciting. But it can be challenging for toddlers to find safe, age-appropriate, and engaging activities. That's why we've put together a guide on how to celebrate Easter with toddlers. In this post, we'll share fun and easy activities, crafts, and treats that you can do with your little ones on this special occasion. From decorating eggs to making bunny-themed snacks, there are many ways to make this day memorable for your toddler. Let's dive in and get started!
Easter Crafts for Toddlers
With Spring holidays upon us, it's the right time to get creative with your little ones and make fun crafts! From decorating eggs to creating cute bunny ears, there are so many easy and fun Easter crafts for toddlers that you can do together. In this post, we'll share some of our favorite ideas for Easter crafts that are perfect for toddlers. So, grab your craft supplies, and let's get started!
Easy Easter Egg Decorating with Kids
Decorating eggs with toddlers is an easy and fun activity that can be done at home. Not only does it provide an excellent opportunity for family togetherness during the holiday, but it can also be a way to encourage children's development in an engaging way.
One of the best things about decorating festive eggs with toddlers is that it doesn't require a lot of materials or preparation. All you need are hard-boiled eggs, non-toxic markers or paint, paper, or newspaper to protect your workspace. You can even use natural dyes made from fruits or vegetables for a more eco-friendly option. Young children may be unable to create intricate designs or patterns, but they will still enjoy the time while dealing with various colors and textures. You can encourage their creativity by asking open-ended questions and providing different exploration tools, materials, etc.
In addition to being a fun activity for Easter celebrations with toddlers, decorating eggs with toddlers can also be a way to support their development. It can help improve their fine motor skills and hand-eye coordination as they grip and manipulate the markers or paint brushes. It can also promote their cognitive as well as language development as they engage in conversations about colors, shapes, patterns, etc.
Easter Bunny Crafts for Toddlers
Crafts are a fun way to celebrate the season with your little ones. Making bunny crafts from various materials can develop creativity in children while providing a great opportunity for them to engage in a fun activity.
Many materials can be used to create bunny crafts with toddlers. Popular choices include paper, cotton balls, and pipe cleaners. Paper bunny crafts can involve cutting out shapes and using markers to draw a face and other features. Cotton balls can be glued onto the paper bunny for a fluffier look. Pipe cleaners can be used to create bunny ears or whiskers.
The best part about making Bunny Crafts with toddlers is that they can be preserved for many years. You can keep them as a special memory while using them to decorate your home during the Christian festival season. It's also a great way to involve the whole family in a fun and creative activity.
Easter Handprint Crafts for Toddlers
Handprint crafts are a great option if you're looking for a fun and easy Paschal craft to do with your toddler. Using non-toxic paints, you can create adorable fingerprints of bunnies or chicks. Not only will your toddler have a blast with the bright paint colors, but they'll also be learning about colors as they create their masterpieces. These handprint crafts are also a great way to save memories about such a great age. So grab paint and paper. Get ready to make cute colorful handprint crafts with your little one!
Easter Activities for Toddlers
Whether celebrated religiously or just as a renewal of nature, Easter is an extra fun time for littlies. After all, the first signs of a warm season manifest nature's upcoming renaissance together with a bag of fun traditions you never tire of. The good news is that Easter activities for toddlers vary – from the classy egg hunt to new joys you've never heard of. To help you create joyful activities for kids on Easter day, we listed the ones we're excited to try ourselves!
Easter Egg Hunt with Kids
Do they promise warm temperatures on festive Sunday? Don't miss a chance to catch sun rays and arrange hunting for eggs! We recommend choosing the right location first. It should be both safe and pleasant. Local child-friendly parks would do. Or, if you don't feel like driving far, stay home and turn your backyard into an Easter-themed Adventureland. Ensure you've got all the essentials needed! First, no Easter egg hunt with kids will be successful without plastic eggs filled with bonbons together with other small things like toys or money. Second, provide each hunter with a basket where they put all the found treasures. Finally, wear suitable clothes to make the fitness hunt fun and comfortable.
Kids Easter Baskets
How about an extra basket of goodies for small fidgets? Regarding kids' Easter baskets, your task is to carefully consider what you want to put in each. You know what it means – a range of randomly picked toys and trinkets will most likely clutter your space. To make sure the baskets will please their potential owners and refresh your kiddos' playthings, do some thinking before hitting the mall (you'll avoid overspending as well).
We picked a few specific E-basket fillers to simplify your shopping.
Since we stick to the philosophy that any gift should encourage creativity and promote child development and independence, our basket version includes a personalized wooden bunny stacker toy. It is eco-friendly, silky to the touch, as well as so adorable! Once personalized, it becomes a sweet memory as well as a tasteful décor once the kid grows up. Consider getting an Easter egg stacker as an alternative to a forest inhabitant. It's fun to play with and helps them learn the size, the shape, the color, etc. If you're a lucky parent of two or more sweethearts, consider preparing kids Easter baskets for different ages, so everyone is happy.
No celebration basket is complete without yummy treats. How about making it healthier this year? They'll indeed look for chocolate bunnies or eggs, so put some inside and add granola bars, nuts, dark chocolate (just try!), dried fruits, etc. If your kids aren't into a healthy diet yet, introducing one is your finest time.
Easter Story Time
More often than not, the Easter family celebration is about creating rituals. Well, choose yours! Perhaps, it's the old song that your grandma used to sing to mark the celebration of hope? Or the fancy dinner menu that everyone had to participate in the making of? You can do it your way. Make reading/storytelling part of the springtime holiday routine. Choose narratives about Easter Bunny or, if your family is religious, invite your munchkins to listen about the resurrection of Jesus Christ. You will get them quiet (yay!), and who knows, maybe even raise an avid reader one day. Besides, reading with them on a day like this is an excellent chance for parents wondering how to explain Easter to a toddler.
Easter Treats for Toddlers
Sunday celebration is only possible with unique festive sweets. As we've already said, putting some healthy snacks on your list of delicious Easter ideas for toddlers is a good idea. But no matter what way you go, there are plenty of treats that are not only sweet but stylish enough to serve as…décor!
Ensure to get little ones involved in any of the activities below to make memories together.
Healthy Easter Treats
Who doesn't love melted chocolate? To make it nutritionist-approved, add grapes, blueberries, or any other berries or fruits little gourmets prefer, and voilà! You have an authentic fruity fondue done in no time!
Looking to add more calories to the menu? Banana oat muffins will help. Add chocolate chunks on top to hook kids' attention.
Rainbow fruit skewers are sure to become your family's next favorite treat! Rich in vitamins, the dessert looks and tastes good. Provide a variety of fruits to encourage children to add up the ones they like the most.
If you don't know what games to do with toddlers for Easter, make a fun bunny pancake as part of a cookery competition. Pick any healthy pancake receipt and get kiddos involved – they love getting creative while decorating it with dried or fresh fruits/berries.
Easter Baking with Toddlers
Keep things classic - do baking! Observing all safety rules while being armed with measuring cups or whisks, try festive recipes featuring nests, bunnies, chickens together with other attributes of the season. We believe cookies or muffins could be the most straightforward culinary scenario for Easter baking with toddlers.
Here's a little trick with the cookies. Undoubtedly, the little chefs will choose bunnies, eggs, or other Easter-themed cookie cutters. As you place the dough characters on the tray, use a chopstick to punch a hole at the top of every cookie. When the sweet treat is ready, allow it to cool on the tray. Now grab your favorite ribbon to string it precisely through the hole. Here you go! An edible décor to adorn your kitchen is about to win hearts!
Easter Egg Cookies
Decorating cookies is a particular mystery and one of the most rewarding activities for the whole family. Now that you have excess holiday cookies, it's time to add aesthetics to your dough masterpieces.
Finally, remember that there's no wrong way to decorate food. You're an artist, you make the rules!
Since spending time on Easter with toddlers inevitably includes festive symbols, you may lack a specific cookie cutter. Don't worry! Everyone can make an egg-shaped cookie. For the best look possible, go for royal icing. It's made with powdered sugar mixed with egg whites that, in tandem, work well for covering large areas or dealing with small details. Looking for ways to camouflage decoration imperfections? Use colored sugars to save the day!
All the above suggestions are to get you in a festive mood. The truth is that the Paschal season entails endless opportunities to make this unique time fun, memorable, as well as quality. Whether it's a tradition you brought to your family from your early years or something brand-new, ensure your scenario is about celebrating Hope and sharing your love with others while having a little fun.