Kids Easter Baskets for Different Ages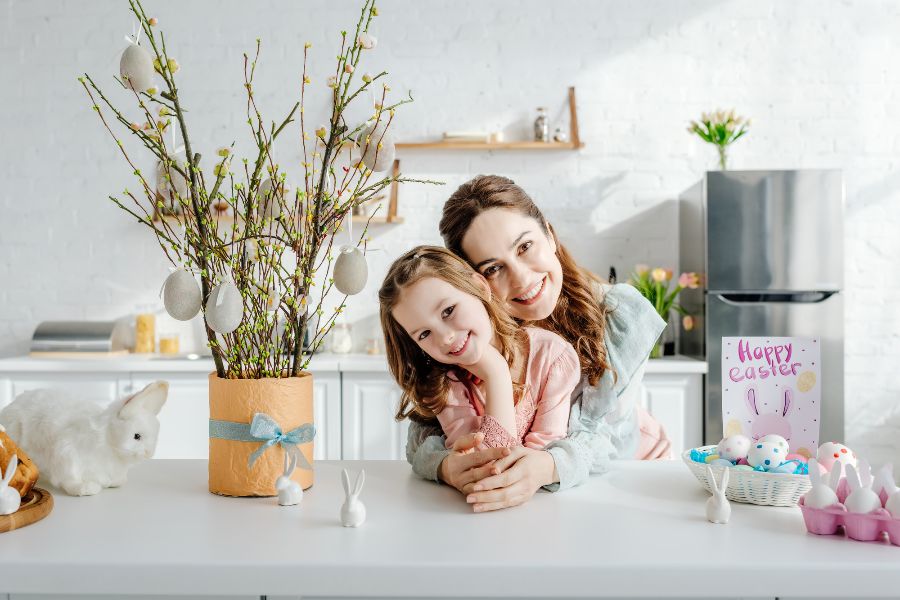 On This Page:
The Lost City of Atlantis, the Hanging Gardens of Babylon, making a good gift…Science may have already reached significant heights, but some mysteries remain unsolved. What makes for a great present? What gifts do people give kids for Easter? How to make the Easter celebration both memorable and kid-friendly?  
Easier than you think. 
Below, we'll give you some great hints on what to put in kids Easter baskets while keeping it related to their current life stage. With a bit of effort, empathy, attention, and espionage, you'll make this Eastertide rock.
Easter Basket Ideas for 1 Year Old
Is it their first Easter? Congrats! This is a fun and cute age full of things done by the kiddos for the first time. There are some really adorable first Easter personalized gifts out there. The best thing is that most are gender-neutral (enjoy it while you can!).
Stuffed animals

. Some toys never disappear from the toy hit parades. Stuffed animals like rabbits, cats, pigs, or puppies will help little ones learn some names of furry friends and foster empathy.

Sippy cup

. They're spill-proof, stylish, as well as perfect for bridging that gap between the bottle and a standard mug.

Easter-themed pajamas.

What can be better than putting on a brand-new stylish night outfit after a fun day filled with Easter egg hunts?

Children's wooden puzzles.

Pick Easter-themed jigsaws to double the fun!

Wooden name puzzle board.

One of the best

surprises for kids

over 18 months of age.
Whatever Easter basket ideas for 1 year old you opt for, keep in mind the ideal ones are eco-friendly, useful, and age-appropriate.
Cute Easter Basket Ideas for Toddlers
Welcome to the next level of Jumanji! The game is getting more challenging since all cute Easter basket ideas for toddlers are now more gender-based. Luckily, we've listed some gifts that are not only fun or surprising but also practical. Read on to maximize the celebration!
Toddler Easter Basket Ideas for Boys
Boys, boys, boys. A wise man said getting a gift for boys is easier, especially if they're little ones. We've browsed all existing toddler Easter basket ideas boy of 2 years old would love in order to highlight the top things they'd be happy to get from the Easter Bunny.
 

Egg stacking toy

. Send him on a mission to solve this egg mystery puzzle!

Books.

When the holiday is over, Easter-themed books will add comfort to the bedtime routine.

Balls.

Does the little champ like to kick the ball? He'll be excited to find one as a hidden surprise.
Safe cutting board and knives

. 2-3 years is the age when cooking comes into play. Let them! This set will surely get children's culinary talents to the surface.

Star gazing night light

. It's actually a 2-in-1 option – a stunning gift

and

your personal helper when it's time to sleep independently.
Easter Basket Ideas for Toddler Girls
Full of non-stop energy, blossoming femininity, curiosity, and creativity, two-year-olds ready for discoveries! If you seek something to make your princess happy, do some in-depth search first. Luckily, today's assortment is vast enough to have something up to the most demanding girls. We hope the Easter basket ideas for toddler girl offered below will help you come up with the present that feels right at home in Springtide.
Dress up items.

Choose something festive but keep in mind that 2-3-year-old girls' skin is still sensitive and delicate. So pick soft fabrics only.

Snacks & treats.

Yummy Easter basket fillers are a must. Gummies, lollipops, dried fruits, as well as crackers (all a little sugary!), are some yummy treats from the healthy category. 

Wooden bunny toy.

It's cute, 100% safe, and it helps to learn!
Art supplies.

If you have an artsy kid at home, finger paints, 3D texture paintbrushes, window art, or Playdough sets are hits for a 2-year-old girlie.

Montessori cutting set.

It's too early for a real kitchen,

but the role of a little sous chef is something she can try!
Easter Gifts for Older Kids
They grow up so fast! However, all traditions remain unchangeable – Easter is upon us, and the shopping hunt is about to start. When it's time to seek Easter gifts for older kids, remember your giftee is more independent and happy to pretend to act like an adult.
Easter Gifts for 5+ Year Old Boys
For boys a little older, more fun can be added to the Eastertide basket:
Board games.

The power of board games can't be overstated! Ideal for small learners.

Kite.

In a gadget-obsessed era, getting the child outdoors is a challenge. Kite will help!

Comic books.

All those superheroes are boys' favorites. Yours too, confess it. 

Magnifying glass.

Let him turn the Sherlock mode on! Make sure to join the home investigation as well.

LEGO.

Always a good idea, right?
Easter Gifts for 5+ Year Old Girls
From makeup kits to baby dolls, you're sure to find personalized Easter gifts for children that include something delightful or girl-empowering to make that special little woman of your life happy.  
Bath bombs.

Made of all-natural ingredients, these bombs will guarantee some good clean fun.

Bubble bath.

Designed to make bath time more exciting, it will also help you teach petite miss a better bath routine. Select handmade products with clean and safe ingredients.

Jump rope.

An ideal way to make a fun surprise

and

add healthy workouts to the routine of a 5-6-year-old.

Bookmarks.

Adorable bookmarks featuring their photos or favorite characters will gladden the avid book reader or someone just about to discover the pleasure of reading.

Nail polish kit.

There are many

non-toxic

options out there, so pick her favorite colors together with a set of cute nail stickers.
Finally, don't go overboard. Spring festive season is not about putting all possible stuff in a single basket. Instead, it's about sticking to the so-called rule of four gifts that limits your options to four somethings:
Something they want.

Something they need.

Something to wear.

Something to read.
This simple yet effective technique will let you fill the Easter basket up to their interests, tastes, and needs. Oh, and do not hesitate to put some extra chocolate bunnies and eggs into it. After all, you're going to be the first…ok, ok, the second to sneak into one to chow down a bit. Happy Easter!