Genius Toy Storage Ideas for Playroom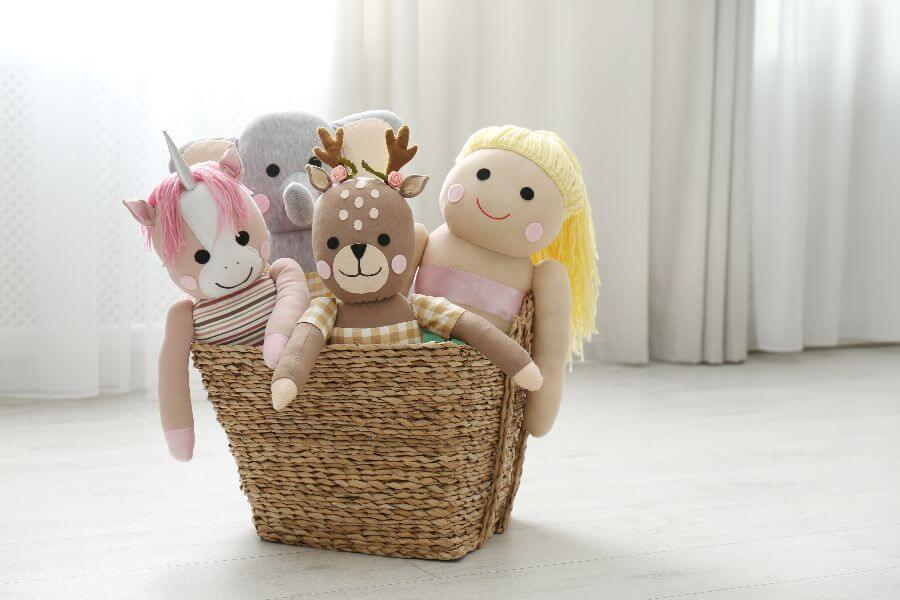 On This Page:
Remember those gold days when you were watching a home design show, thinking how nice it would be to make your closet look like a boutique? The sound of a sigh. You were inspired to organize your clothes, shoes, and other accessories as neatly as the home transformation experts do. But then, oh-oh, life happened. Sooner than you knew, you found yourself watching TV shows where enthusiastic hosts nosy inside other people's homes to create whimsical kid's rooms.    
So the saying goes. You're a happy parent now looking for toy storage ideas for the playroom because, well, stepping on LEGO bricks hurts a lot. From wooden shelves and woven baskets to cute closets and storage bins, each solution will beautify the room and, who knows, maybe inspire your child to do the cleanup themselves. 
From our previous article on "12 Tips How to Declutter Toys," you know the art of keeping kids' spaces neat and tidy. Now you're gonna need some strategy to pick storage ideas to get kid's stuff into its special spot. 
Let's see what we have.
Use Bookshelf for Toddlers
Reading and storytelling are integral parts of growing up. It's a great goal, especially if regular reading sessions are part of your routine. Not only will your tot learn more about sounds, words, as well as language itself, but they'll also learn more about this big-big world. Read daily. Expose them to new words, plots, and ways of using language. Your voice is the sweetest thing for little listeners, so use it as an opportunity to stimulate their imagination, as well as spark and kindle a love of reading.
And what could be better than books to build a strong reader? But the question is – where and how exactly are you supposed to store your home collection? Here are the tricks:
Go Montessori!

Designed in accordance with the child-centered philosophy, the

wooden Montessori bookshel

f

has a simple design yet effectively encourages children's independence. Typically, these shelves are open, allowing little pumpkins to see, reorganize, as well as choose the most attractive materials.

Use book display boxes.

If you can't put up bookshelves in a playroom, go for a book display box. Like a good old bookshelf, this piece of furniture is sustainable. Besides, it is at the tot's eye level, making it easy to grab the reads they like.

Choose book baskets.

Woven or crocheted, the book baskets can hold anything, including coloring pages, toys, books, clothes, etc.

Pull-along book carts.

An excellent way to store favorite reads while migrating with them from room to room.

Dollhouse bookcases.

If there's anything that Barbie's house lacks, it's definitely a cute library! A simple dollhouse will make an attractive book storage option. Besides, it's

so

cute!

Add variety to kids' reading experience.

Store books whenever you can! Along with setting up a

bookshelf for toddlers

, keep materials accessible throughout the playroom (or your entire house!).

Make things accessible.

Whatever storage you choose, store child's books in an easy-to-reach (low) place.

Rotate books regularly.

Do that every now and then to get your children eager about reading. Don't forget newspapers, magazines, or other printed materials that can hook your child's eyes and motivate them to read. 
Don't Forget about Toy Storage Baskets
Whether organizing toys in a small space or a large playroom, choosing the right organizers is crucial not only for kiddos' sanity but for the sanity of parents as well. After all, picking up cars, dragons, stuffed animals, or any other creatures off the floor may contribute to your overall stress level without realizing it. Oh, is your eye twitching?
Luckily, toy organization ideas vary! Dozens of options enable you to keep things clean, well-organized, and free from clutter. Before you select any, keep in mind the primary goal of kids' room organization – to allow youngsters to see what they can play with. Besides, organizing playthings also teaches them to be responsible for every item by keeping it safe, clean, and in the right spot when the fun is over. 
OK, it's time to get the organization thing under parental control!
Colorful baskets.

How to organize a playroom

? So that it never gets boring! Colorful/rainbow baskets will keep push-along cars and building blocks tidy while being a playful addition to the interior.

Eye-level shelves.

Even the most petit rug rats will be able to reach their favorite puzzles or stacking rings. Use low organizers if there are any soft toys. Teach juniors to take care of those fragile thingies.

Clear bins.

Now, this is a win-win option for parents and children! Clear containers mean your little players will have no trouble finding necessary toys without asking you for help.

Plastic bins.

Practical and elegant, plastic items can be used daily. Make sure to label them if there are no transparent tops provided.

Storage cabinets.

Try bright-colored ones! These colorful units will add style to a small playroom while letting you keep all those kangaroos and squeaky hammers behind the cute closed door.  

Hanging storage.

One of the non-conventional

toddler toy storage ideas

yet so stylish. Not only will toddlers see what's inside those bags, but (if necessary) they'll easily take it down. Obviously, having bags hung on the wall will provide more space in a playroom.
How to Organize a Toy Room with Pretend Food
Here's the truth – rug rats get more excited about independent play and more creative if things are well-organized. Just like a messy kitchen gets stressful when it's cooking time, the playset doesn't inspire little players when being cluttered. In other words, if you have a huge bin with dozens of objects dumped in it, your MasterChef won't find essential items. The game is over.
The number one task is to find some nice place for every other kitchen playset tool. There are several options available here:
Clear storage bins.

The kitchen is the world of taste, smell, and…gazillion of utensils. With an assortment of clear acrylic bins, kids will have all appliances sorted out in one place. No need to guess what's inside – all boxes are transparent!

Woven baskets.

Together with a

modern wooden play kitchen

(designed based on all Montessori criteria!), this

pretend food storage

will add more eco-friendliness to the arrangement of a children's room. Woven items work well to keep the play cutlery set. Besides, excited players will grab one of those for shopping at their imaginary play shops.

A rolling cart to serve food. Toddlers are super busy! It's always more than just a kitchen they can swarm at for hours. It's also a restaurant they come up with a unicornish marketing strategy for; a café where a wooden pizza toy set rocks the menu; a fancy dinner party for Barbie's birthday, and…things that you couldn't even imagine. Using a rolling cart will help them have several successful make-believe businesses

and

keep all accessories well-ordered. 
2 in 1: basket & a coffee table.

Usually provided with a top, this simple bin can become a comfy coffee table. An essential part of an atmospheric café pretend play and something a

wooden cookies set

would look particularly delicious on! 

Labeled bins.

If you have

toy storage baskets

that aren't transparent, it's OK. Put the kitchen gadgets inside (sort them out before!) and label each box, so your cherub knows where a pan, an onion, or anything else can be found.

"Whatever" bin.

No matter how thoroughly you sort out piles of wooden donuts or plastic forks, there'll always be something left fitting neither of the categories. Visit the "whatever" bin occasionally to see if kids ever think about it. If not, confidently donate what's inside.  
One of the crucial space-making hacks is using an oven as storage for kitchen utensils! You will provide your sweet cook with more space to get creative and bring their yummy projects to life.
Take Care of Toddler's Dress up Storage
It's inspiring to think about organizing kiddos' precious little thingies perfectly to keep them in good condition. Just like you do your best to keep your wardrobe in order, keeping your toddler's clothes well-organized is essential. First, they'll be able to find their favorite dresses and dungarees without asking you for help. Second, you will be able to find their favorite outfits without asking them for help. And finally...If one day, a new sibling arrives, there'll be a ready-made wardrobe for the next generation.
Unfortunately, you flip through glossy magazines, seeing feel-good toddler dress up storage designs and wondering who you should sell your soul to have exactly the same. No one! It takes some preparation and planning in real life; however, you can set up functional storage yourself.
To get jaw-dropping results, keep in mind that every detail matters when decorating your kid's bedroom. Start small. For instance, get kids dress up rack to do a double job – make kid's clothes organization more effective and help little ones gain emotional, physical, and cognitive benefits of the so-called dress-up pretend play.
Consider getting nursery wall hangers. They come in fun, colorful, and cute designs. Not only they'll become a tasty addition to a playroom or nursery, but these objects will also give organization and order in the toddlers' space. We strongly recommend opting for earth-friendly furnishings made of environmentally-friendly materials. You see, crafted from glass, recycled or reclaimed wood, the items have nothing to do with harmful chemicals, i.e., are 100% safe for offspring. Finding the right wall hangers is too challenging for you? At ChildUniverse, we did homework for you and packed a wide assortment of mom-approved options that can serve as the foundation of any playroom.
Inspect your kids' possessions at least 2 times per year. Do you detect any stains? Is there an odor coming from the storage? The sooner the source is caught, the better.
Take the Full Benefits from Cute Cube Storage Bins
What's so special about cute cube storage bins? Everything! There are so many different ways of using those, and they make even the messiest playroom look tidy and neat. Whether it's books, kitchen utensils, toys, or any other kid's accessories, this simple storage system will keep things in order. What's more important, the playroom won't lose much-needed space.
What else?
Availability.

Most cubes are available in stores here and there. Besides, you can do some online shopping as well.

Versatility.

As your toddler's needs change, you're welcome to change the way you're going to use the items.

Style.

Cube bins are available in loads of different patents and sizes, so you'll find what perfectly matches your interior.

Simplicity.

No prior knowledge is needed to set up the storage – unfold it, and there you go, the job is done.

Softness.

All items are kid-friendly – their surface is smooth and has no burrs.
If you wonder how to organize a toy room with these cute helpers, we drew up some ideas below:
Organize toys.

The cubes work well when it comes to sorting and keeping toys organized.

Outfit storage.

If your little fashionista can boast of having rock star outfits, those can be neatly kept in cubes.

Jewelry box.

Finally, you've got a safe place for numerous earrings, bracelets, rings, necklaces, and so on.

 
Keep specific activities' accessories.

Is the child fond of soccer? Or, perhaps, they're sure to become doctors one day? Get cube bins to keep those crucial accessories at hand.  

Use extra storage for huge or tiny toys.

Small things like puzzles or huge plush teddy bears should be provided in their area, especially if you need to access them on a regular basis.

Store the baskets currently of no use.

If you happen to have a couple of spare bins, the good news is that they can be placed inside each other, thus, saving much space in a small room.
Finally, be realistic.
Even the most expensive
storage for toys
can't change the fact that
kids will be kids.
In other words, they will get into their imaginative worlds, get creative, play, talk, cry, and get the playroom messy. Do not expect them to clean the area once the game is done. Also, don't hope for the loud fidgets to sort the toys exactly where you want them to.
It'll all come with practice
.