12 Tips How to Declutter Toys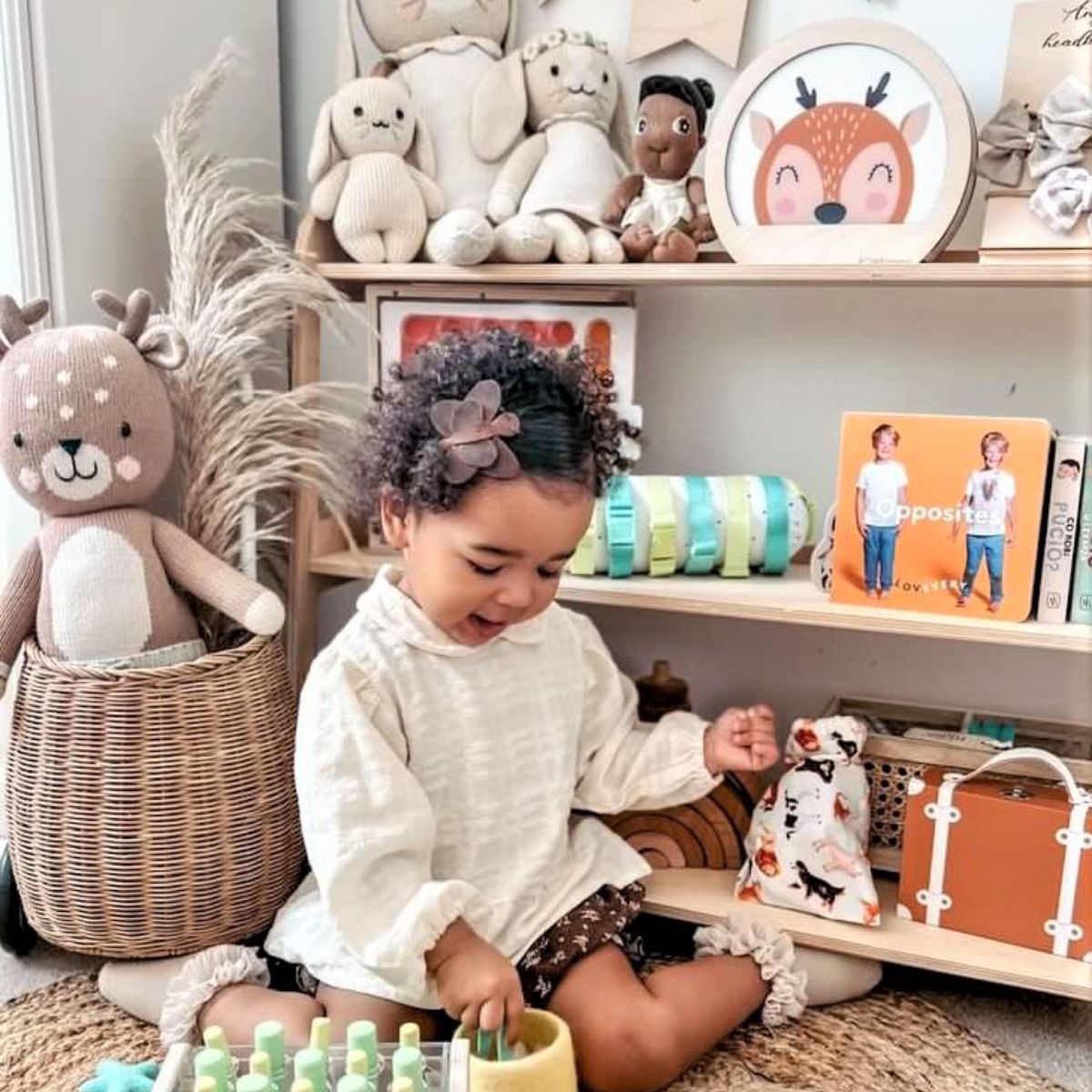 Kids come with toys. Well, you knew it, of course. However, you didn't realize how many would be that mind-blowing. Innocent at first, they seem to multiply in some magical way. And now you are up to your knee in teddy bears, LOL dolls, unicorns, and LEGOs. Your room (or the house?) is messy, and you subconsciously plan an escape through the back door to Cuba.
Sounds like the story of your life?   
Just breathe.
You're not alone. Millions of parents worldwide struggle organizing childrens toys. Luckily, with some tricks and ideas on how to declutter toys, you will surely win this battle.
#1 Better for Kids to Have Fewer Toys
Based on the "The Influence of the Number of Toys in the Environment on Toddlers' Play" research, play lasts longer and is more creative if fewer toys are used. Naturally, little ones are exceptionally good at incorporating both imagination and creativity into a play. However, many toys scattered here and there distract them and prevent them from using those valuable qualities. That is why it is better for kids to have fewer toys to find ways to use each in a fun way. They pull all their creative mind resources while creating scenarios, assigning roles, and familiarizing themselves with adulthood situations in the form of a play. This, in turn, helps them further develop and enhance concentration and focus levels. Don't let your child be just a passive observer during playtime!
#2 Own Motivation for Purchasing Kid's Toys
There's only one reason your kiddo has many toys – you. They're too small for shopping malls or shopping online. So there's only mom or dad to approach with the I-want-it request. Undoubtedly, these small toy purchases seem harmless at first. But it's a snowball! There are more and more toys that you buy just because or under the holiday shopping fever impulse. The result? Not only will they lead to wasting money, but these playthings will also lower playtime quality and make your place look like a toy Armageddon just happened. Maybe one day, when you accidentally step (ouch!) on that tiny LEGO fragment with bare feet, you'll be enlightened that it's time to cut mindless spending.
#3 Quality over Quantity
More toys don't mean more love, folks. With fewer yet
high quality toys for kids
, keeping the playroom organized and kiddoes more engaged is easier. Of course, you want to give them the entire world and even more. However, the best intentions may be followed by the
biggest disappointment. With that in mind, make better choices next time you walk along the aisles with Barbies and Pinkie Pies. Pick games or toys wisely to enrich little lives. Instead of providing your pumpkin with tons of flashy and squeaky stuff, go for products that cultivate healthy habits, promote teamwork, as well as develop creativity and imagination.
#4 Declutter Toys Often
One of the central rules for decluttering toys is regularity. For some parents, it can feel tough to declutter sentimental stuff somehow related to little ones. But you will be amazed at what a difference it makes! First off, categorize toys. For example, all items can come in several groups: 
Toys that miss fragments or broken ones.

Toys your kids don't play with anymore.

Top-quality things children love.

The ones you hate. 
From the list above, you can now decide what should find its place in a trash bin, be donated, or given to friends or family you know. Wondering where to donate all the pretend play accessories? Check out local daycare centers, hospitals, children's shelters and homes, religious organizations, charities, recycling programs, etc.
#5 Create a Minimalist Playroom with Boundaries
If your home already has a minimalist playroom, skip this section. If not, set up some safe, dedicated space for little players where they feel the freedom of independent play. Choose areas of your home where minimalist toy storage would fit well. This is where you will keep an appropriate amount of toys displayed and easily accessible for kids. Buy toy organizers, bins, baskets, boxes, containers, cube shelf units, or other storage options that play well with the interior as well as let kids see what is inside.
It is also a perfect haven where you will keep an eye on your kiddo while they're engaged in a safe play, either solo or with pals. Consider installing Montessori furniture to make the environment more comfortable and motivating for kids. For more fun, incorporate ceiling-mounted swings and eye-catching wallpapers.
Let the playroom owner know (effectively and lovingly!) that there are clear boundaries for the spot where the game is on (where they can do just about anything) and the adults-only area.
#6 Don't Give in to Toy Fads
You might remember those toy fads long ago, with Tetris and Tamagotchi topping the list. They exploded in popularity and didn't disappear from the counters for many years. Very
little has changed ever since then. Just like before, there's a toy craze popping up regularly with dozens of YouTube unboxing videos convincing toddlers they gotta have it now. With a single social media video, manufacturers can grab kids' attention and make a killing, of course. Inevitably, moms and dads find themselves scrambling to get what a rug rat is dying to have, especially during the jolly season. Don't be led by an instant impulse, an eye-catching ad, or the fact that other parents buy it. The buzz about a new toy will fade away sooner than you know!
#7 A Healthy Attitude Toward Toy Stores
Teaching your generation next to be smart consumers is huge. All it takes is some deliberate forethought effort from your side. While every other toy in shopping malls seems to be able to educate the little ones, entertain (maybe even raise them), and make them rich, handsome, popular, creative, and happy, that doesn't actually work that way. The trick is to leave the children's department with any purchase, even if your tot will end up with duplicate toys.
Since children influence family shopping, fostering a healthy attitude towards purchases is important. Considering natural child trustfulness and naivety, you should talk to them about the importance of being responsible with their funds (if any) while avoiding impulsive buying. Here's what you can also do:
Discuss the importance of buying what they

really

need, and explain that

kids with fewer toys

are equally happy.

Show them new creative ways of playing with toys they already have. Encourage little ones to come up with their own games.

Show them the difference (maybe

finally

learn it yourself) between the

'I want'

and

'I need'

concepts. Talk about more essential things you can spend money on.

Shop together

only

when children need something

new

(stick to your budget!).

Inspire young ones to use their creativity in tandem with imagination in playful ways to entertain themselves. Take part in the process!
#8 Avoid Duplicate Toys
If you have duplicates in your home collection – a Barbie or a firefighting car – pick the item with a more realistic look. Remove everything else. By now, you already know how to get rid of kids toys (see #4 section).  When shopping, the rule is to avoid purchasing duplicate toys, no matter what. Even if you see incredibly round eyes (exactly like Shrek's Puss in Boots) as the junior gets in the gimme-gimmes mode.
#9 Watch Less Ads
Well, this might sound quite simple and obvious. But the sad reality is those toy ads are replaced by something more nefarious as kids watch less TV. Let's face it, seeing a child watching traditional cable TV is rare in the world of social media platforms and YouTube bloggers. However, marketers do their best to find the sneakiest ways to bombard the littlies with new products. Just like cleaning the kid's room space, you should protect their minds from powerful commercials radiating brain trash. Plus, try this:
Limit the amount of time kids spend in front of the screen.

Do not rush to give youngsters their smartphones or tablets.

Watch videos together to explain the power of commercials when your child is mature enough.

Install ad blockers if possible (Stands Fair AdBlocker, Ghostery, AdGuard, uBlock Origin, etc.).
#10 Don't Give in to Temper Tantrums
If you don't want to get stuck in getting rid of toy clutter for good, do your best to prevent the situation. Never give in and purchase the toy they get hysterical about. If you do, tantrums will become your prison until the kid grows up to leave for college (maybe even longer).
Whenever they're begging for some new toy,

stay calm.

You're the one to control the situation. It shouldn't change.

Talk

in an understanding, calming tone. 

Use distractions

if possible. 

Walk away

if nothing works. As you leave the store, your kiddie will cool off and eliminate the "I see it, I want it!" virus.
#11 Equip Your Kid to Make Wise Choices
How to declutter toddler toys effectively? With their petite owner engaged in the process! Many parents are surprised at how happy munchkins may be about getting rid of old toys. While most parents are sure donating or selling kids' toys will inevitably hurt their offspring, the truth is quite the opposite. Most children get pretty much excited about the idea that an old teddy bear or cop car will move to a new home where someone else will love and cherish it. Whenever you decide to recycle or donate items from kids' arsenal, ask what their owners think about the future of this or that toy. Not only will they find this process enjoyable, but they'll also feel responsible and important. Finally, a seemingly simple activity will help kiddos realize things are fluid while empathy is a fundamental part of daily life.
#12 Diminish Your Toys
Unfortunately, kids don't really listen to what we say. Instead, they imitate us. It doesn't matter how convincing your message is since the little wonder will mimic your deeds. Are you dying to have the latest Dior mascara? Or, perhaps, a new iPhone makes your heart skip a beat? Decluttering starts with you. First, throw away all the "toys" you don't use anymore or have more expensive alternatives. Only then proceed to the kiddo's collection. Be the example.
Minimizing the number of those dolls or soldiers is never easy, let's be honest. The very moment you feel like the job is done, the relatives' generosity comes out of nowhere as a bag of gifts. It starts all over again. If you don't feel like decluttering toys yet, do as the University of Toledo researchers (the authors of the "The Influence of the Number of Toys in the Environment on Toddlers' Play" study) say – don't introduce the whole abundance of toys to kids. Save some items for later to guarantee a richer experience and ensure to swap them out regularly. Thus, your child will be left with only what they play with. Perfect!