Why Children Size Furniture Is Important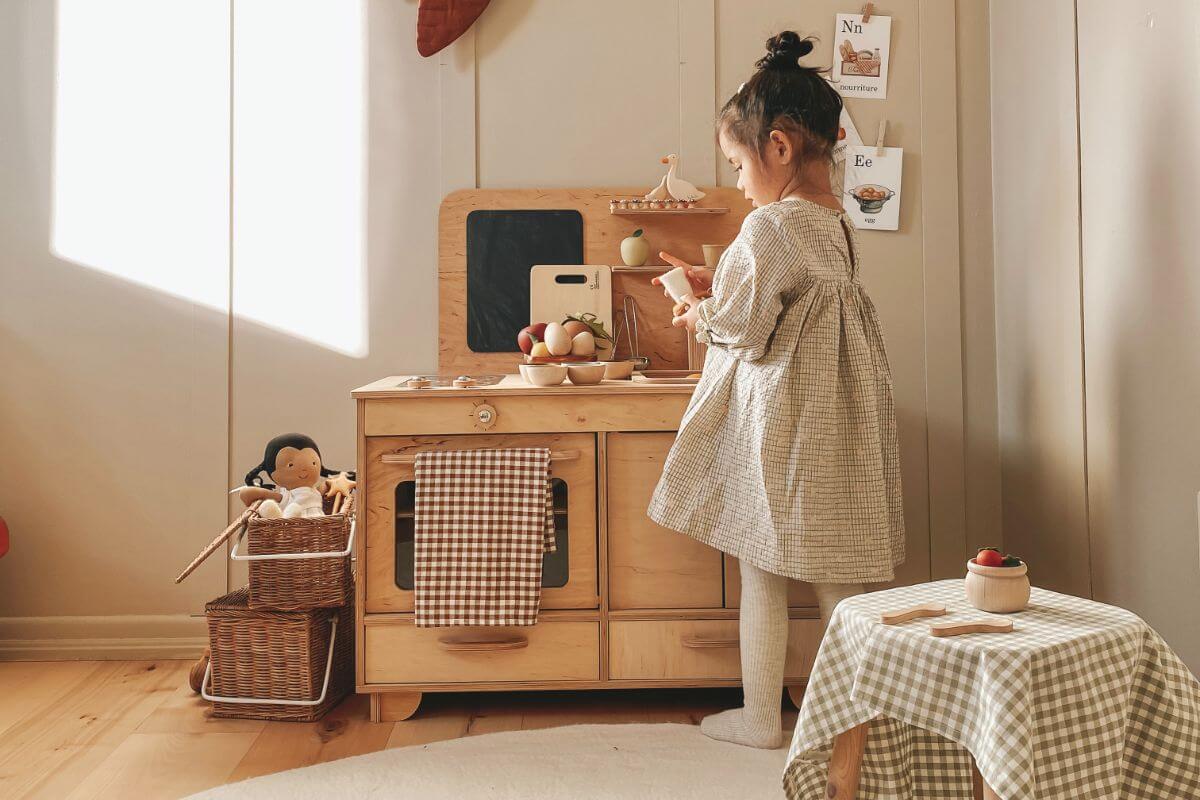 Remember when during her first adventure in Wonderland, Alice discovers the eat-me cake? The magical treat that makes her grow. Wouldn't it be a lifesaver for a first-time parent picking a kid's room stuff? Undoubtedly. Because now that adult-size table is just too high, chairs are too heavy, while crumbs on the grown-up sofa signal it's time to sit back browsing children size furniture. Unexpectedly, even a miniature dining set adds glam to an imaginary tea party while being a catalyst for a toddler's development, as stated by Montessori philosophies. But let us be consistent and take each step as it comes.  
What Is Montessori Furniture
To understand what Montessori furniture is, you must first clarify what exactly stands behind the concept. Developed by the educational innovator, the child-centered philosophy is based on the principles of individualized education. In other words, a child's specific needs and uniqueness (cultural, family, individual, etc.) should be nurtured in learning. Now the questions are – what is a child-centered interior, and what does it have to do with the method of education named after an Italian physician?

First, it's the environment with all furnishings child-sized.

Second, every item has its place/purpose. Plus, it is easily accessible.

Third, it supports kids' ability to self-motivate. It also helps them adapt to their surroundings at their own pace.

If you feel like setting up your home in a child-friendly way, a change needs to happen.

Just look around.

What do you see?
All houses were planned with grown-ups in mind. Nearly everything is above the kid's height. Since the hands-on learning philosophy is focused on teaching kiddos practical activities (helping with cooking, doing cleanups, self-dressing, etc.), you should make things within reach for children.
 Kitchen.

Set things up so little darling feels like joining you whenever you 'dabble' something yummy. How about the so-called

Montessori toddler kitchen?

A perfect alternative to a real one. Equipped with utensils adults have, it's a functional space where children learn simple yet effective things like washing hands, doing dishes, etc. If you don't want to go that far yet, a learning tower will help. With a solid stool, minors will get at counter height while you will easily involve them in all cooking stages.

Bedroom. When done right, it includes a floor bed, child-sized mirror, shelves, wardrobe, wall art, as well as natural materials everywhere. Typically, it has neutral colors and is full of natural light (a cute night light would play well with its interior, though).

Playroom. There's no better playroom than the bright, clean, and inviting one with Montessorized furnishings. It should be appealing enough to inspire kids to play while learning independently. Whatever activities are on your mind, they should be displayed at toddler height. A cute book or toy shelf will display all toys with illustrations easily accessible. A comfy child-sized couch to climb on, in, or around will be nice to relax after an active play. Age-appropriate toys that aren't plastic or supplied with batteries will look good around the wooden furniture. No noisy sounds or non-eye-friendly lights to distract little ones! Instead, an absolutely safe alternative that stimulates fine motor skills development.

Bathroom. This is where fundamental care-of-self skills are developed – the Montessori toddler bathroom! Provide all supplies they might need. Let them do things independently. Of course, you'll always be there, but acting like you're not does good. Keep your child's needs in mind! Provide (if necessary!) a step stool, a potty seat, a full-length mirror, a low hook, a basket, etc.

What Did Montessori Say about Furniture that Fit Children Size
In 1907, an Italian physician worked at "Children's House" ("Casa dei Bambini" in Italian), where educational programs emphasized hands-on learning, self-discipline, and independence. It was during this period that the woman started developing her well-known pedagogy. The classes were equipped with kid-sized furnishings, while purposeful activities like washing tables or sweeping were part of education. An educator's role was to remove potential obstacles to natural development while providing endless learning opportunities. In explaining her philosophy, Maria said, "A child is constantly inspecting his surroundings, his "house"; when a chair is out of place, making the room look disorderly, we can be certain it will be the smallest children who will notice it. Before they are three years old, the highest form of work that engages them is arranging furnishings to put things in order" (The Discovery of the Child, p. 84).
When asked how Montessori bedroom looks like, and why miniature-size items are essential, Maria mentioned, "He [the child] climbs upstairs or on chairs. He does not climb on chairs in order to sit on them, but just for the sake of climbing" (The 1946 London Lectures, p. 124). Why then complicate this simple exercise? The provision of surroundings in which young ones can develop powers given by nature is directly linked to achieving any goal without adults' assistance. With all materials accessible at little folks' height, nothing interrupts concentration and creativity flow: "I then realized that everything about children should not only be in order, but it should be proportioned to child's use. Both interest and concentration arise specifically from the elimination of what is confusing" (The Secret of Childhood). 
What Is the Purpose of Child Size Furniture from Montessori
In her work "The Child in the Family," the world-known educator mentions the importance of giving "the child an environment that he can utilize by himself: a little washstand of his own, some small chairs, a bureau with drawers he can open, objects of common use that he can operate" (The Child in the Family, p. 88). Our task? To provide absolutely nurturing atmosphere where the littlie can thrive while having fun. Then, we'll see him working with his hands while waiting for zzz time to undress without any help to get under the sheets. Surprisingly, they will be calm, with no crying, outbursts, or misbehavior. Naturally, it follows that the fundamental purpose of kiddo-sized settings is to enable juniors to see, reach, as well as use items without parental involvement. It's about freedom to independently pick and carry out their daily activities, at their own pace, based on their inclinations. To all the parents wondering why have child sized furniture Montessori writes, "to create a favorable environment that will encourage the flowering of a child's natural gifts."
What Age Is Appropriate for Montessori Furniture
"Education must begin at birth." Probably, one of the pedagogy revolutionist's most quotable quotes. In other words, it is never too soon to incorporate this style into the interior. Little ones as young as 1-year-old do benefit from Montessori bedroom furniture for toddlers or aesthetically pleasing eco-friendly accessories. If you need a more precise age framework, the pedagogy genius says the initial three years of life are characterized by immense physical and psychological growth/development. During this time, kiddies grow rapidly while experiencing significant transformations. This is when language and motor skills are learned and developed. To ensure your champ can reach their full potential, proper care must be taken about their safety. Plus, parents should provide conditions for their growth. (Understanding the Human Being, p. 164).
How to Choose Safe Small Furniture for Kids
Next comes the decision-making. The most challenging part yet most exciting. We've already mentioned that every piece of interior should be picked while keeping the child's height in mind. Besides, it should also put rug rats n your shoes as they play. They can try various adult roles, dramatize them, and thus discover what adulthood is. Here are some tips and tricks to pick small furniture for kids:

Safety is top. When you have toddlers at home, safety is always a priority. Carefully choose the Montessori playroom, kitchen, or living room items to avoid unwanted injuries and other accidents. While children spend most of their time in their rooms, ensure all the tables, armchairs, shelves, and beds have zero sharp edges. Avoid slippery surfaces.
Go eco-friendly. Additionally, choose kid's stuff that is earth-friendly and non-toxic. Once you decide where to buy Montessori furniture, study products' composition scrupulously (paint, clay, topcoat, and so on). If you do your homework at this point, that little fragile soul will enjoy having things picked for them exclusively and planet-friendly.
Be careful with style & design. Lucky you, the variety of colors, themes, and styles are limitless. To change room appearance properly, consider your kiddo's tastes and preferences. They like to be part of the process, remember? However, toddlers tend to outgrow their tastes. Like, say, kiddos who adore dinosaurs now might want a space-themed place sooner than you know. What's the solution? Purchase standard Montessori bedroom furniture that requires only color/arrangement changes when needed.
Have it durable. Living with kids is chaotic. They're jumpy and messy and create stress. Fear not! Small furniture for kids that is durable will save the day! Investing in a quality bed, table, or chair today saves money (and sanity) in the long run.
Choose kids-friendly colors. Bright colors hook most toddlers. However, these should be avoided since they affect behavior and mood when overdosed. Here's the trick: try different colors but stay away from the loud ones (they make it harder to relax and concentrate).
Storage, storage, storage! Kids are lovely members of your family, but…they come with toys. The answer is – storage boxes! When you order those, stay away from heavy lids to ensure little ones won't get hurt when moving them.
Age-appropriate compartments. Toddlers enjoy having things just their size, including shelves. However, they may not do well with cabinets or drawers the shelves usually feature. Choose open designs like shelves with no cabinets or cube organizers. 
Reasons Why Children Should Have Child Sized Furniture Montessori
If there's one thing every child has 100% appreciation for it's belongings exactly their size. Just imagine living in a world of giants and then, suddenly, finding yourself where everything is perfectly sized.

You. Finally. Feel. Normal.

That's how it works for kids when they find miniature settings designed based on their needs and interests. It turns out that not only does it add aesthetics to the room, but there's also a range of developmental benefits of having small interior items.

Foster independence. Just think about it, if everything in a Montessori toddler bathroom is their size, children are less likely to wear you out by asking for help to use all the toiletries. With some thoughtful "makeup" of their environment, cherubs will have more opportunities to explore their surroundings and reach specific developmental goals.
Build self-worth in children. When your pumpkin tries to move that huge table, it's an uphill task. If they can move any item without assistance, it will help them feel they can tackle whatever comes their way. This, in turn, fosters healthy self-confidence.
Encourage to try new things. Instead of focusing on what tots are already good at, it's better to participate in new activities. Acquiring new skills makes little ones feel confident and capable of dealing with new and/or challenging situations.

To fail is human. Undoubtedly, most parents do their best to protect kids from failures. But you know what the reality looks like, right? We live in a trial-and-error world, where learning and failing go hand-in-hand and are inevitable. At the same time, suffering a setback helps children realize it's not lethal. Moreover, it can motivate them to exert more tremendous effort (the quality that will be rewarding later in life).
You're at their level. You're going to play pretend tea party at your daughter's dining table! Toddlers love adults being close to them, talking to them, and…listening. It is vital to show them what they say matters.



They find their passion. Exploring their interests in fantastic play spaces can help children develop self-identity (one of the ingredients of confidence). Of course, seeing their talents enhanced also gives a lift to self-esteem.

Turn desires into goals. In a meticulously prepared environment, kids learn to articulate goals, break them into manageable chunks, and achieve each.

Ready to pitch in. The little ones feel more valued, connected, and needed by the family members they adore when asked to do age-appropriate tasks. With small objects around, homework like doing dishes or sweeping the floor is manageable, while the "being needed" feeling afterward is invaluable.

Teach them tidiness. If you're tired of picking up after little messy hooligans, use kid-sized furnishings to team them to clean up after themselves. Now that they have their personal table show them how to wipe it down when they're done. The reward? A clean and shiny surface ready for creative hours of drawing, playing with the dough, etc.

Add Zen to your home. At last, the fidgets know there is an ideal alternative to running wild around the house. They know they have access to some fun and nurturing space where they can sit and get their creative juices flowing.

Promote peaceful cooperation. How many times did your youngest angel burst into tears because the older siblings no longer want to play? With an aesthetic table-and-chair set, both camps can share the same space while being peacefully engaged in separate projects. Thus, nobody feels abandoned. Add extra chairs if friends come!
It's okay if you're kind of jealous of the mini-versions of adult stuff mentioned above. Honestly saying, we are too. Now that you know how Montessori bedroom looks like or what bathroom tweaks boost kids' independence, time to roll up your sleeves and get the makeover done! Updating and freshening up your child's space will provide many developmental benefits their future selves will be thankful for. Finally, nothing compares to the independence level they reach from an early age! Just imagine a noisy little person (that makes you lose your mind at times) being busy for hours while you have (finally!) free time on your own. Sounds dreamy, right?