How Montessori Bedroom Looks Like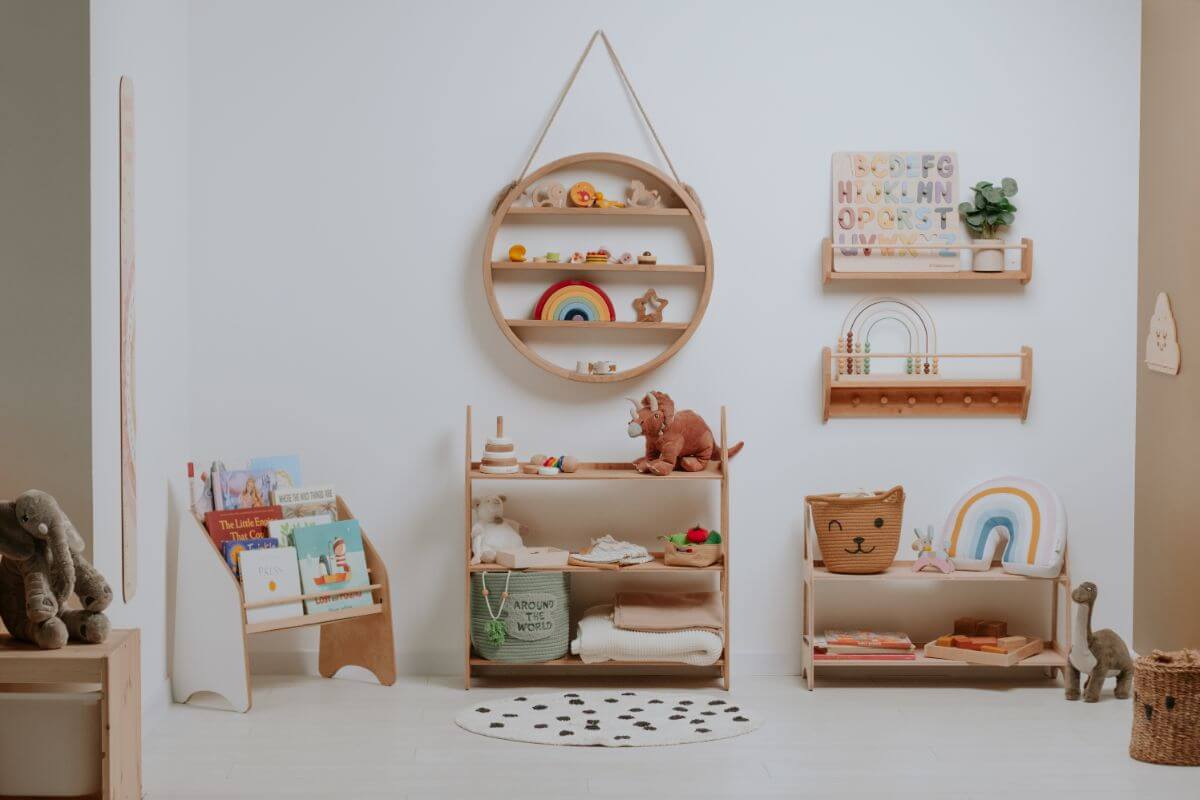 On This Page:
The Montessori method was created by a world-famous Italian educator and innovator Maria Montessori as a new way to encourage creativity and independence in kids' education. But the reality is that the Montessori style can also be applied to the way you organize your child's bedroom.
So, what is a Montessori room décor put into practice? What is, actually, important to know to create a cool aesthetic kid-friendly room? Below, we'll go into specifics about how you can turn your toddler's space into a safe, fun, and educational environment.
How to Set Up a Montessori Bedroom
Based on the help-me-do-it-alone motto, the Montessori approach is about promoting independence and keeping things simple and easy to manage. The purpose of the bedroom in this case is to let your toddler decide when she falls asleep or wakes up. With the right accessories and the Montessori mindset, you will soon create an environment in which the little one can live and play.
1. Montessori Bedroom Furniture
In a non-Montessori environment, kids are dependent on their moms and dads for access to their beds. When it comes to the Montessori bedroom, a floor bed is the core of the space enabling your kids to trust the basic bodily instinct to sleep.
In other words, an easy-to-access mattress put on the floor does not restrict movement and is up to the Montessori principles. The little owner of the bedroom will enjoy full autonomy – she can get out of and get back into the Montessori bed on floor with zero restrictions in the process.  
To create a bedroom your kiddo will love, add a Montessori bookshelf to the interior. Placed in a big or small Montessori bedroom, the shelf is a great investment for parents looking for ways to cultivate a sense of personal preference in kids. The front-facing shelf draws kids in and helps them recognize the covers of their favorite books.
2. Play Area for Baby in Montessori Bedroom
Montessori bedroom furniture must be simple with free access to educational and interesting playthings. According to Montessori's idea, parents should avoid putting too many toys out. This can be overwhelming and overstimulating. Besides, a bunch of options within reach doesn't naturally sync up with the developmental needs of a child.
Instead of filling baskets and shelves with EVERYTHING you own, make a selection based on your kid's favorite playthings and organize a neat space with several themed stations. Based on Montessori guides, 8-10 activities in the playroom are enough. If you choose more, ensure to rotate all the learning boards, stacking toys, puzzles, and bookshelves regularly to get your little one engaged in independent play. You want to keep things simple.
3. Dressing Area in Small Montessori Bedroom
Empowering a toddler to do self-care is so inspiring!
Consider replacing a big, adult-friendly closet with a small one so your little fashion fan can pick out their own clothes. Whether it's a Montessori girl bedroom or a total boy environment, giving kids this opportunity to imitate adult dressing activities boosts both their confidence and tastes, as well as gives a sense of accomplishment.
It's no doubt that the mirror is the fanciest part of the dressing area. Positioned right next to the closet, it enables kids to watch themselves while dressing or while parents help them. The mirror also gives a better understanding of the full sequence of getting dressed, as well as helps develop recognition and body awareness.
Above all, dressing practice helps your baby cultivate the coordination and fine motor skills needed to pick appropriate clothes, shoes, or any other accessories for the weather.
Montessori Bedrooms Ideas
It's when your kid is ready to move from a crib to a toddler bed that you know it's time to make a few interior changes. You want the room to fit the child, and help it learn, develop, and play independently. That's why you need to re-design and adjust a couple of things even if your kiddo still co-sleeps at night from time to time.
1. Ideas for Montessori Shared Bedroom/Montessori Bedroom for Twins
Welcoming twin babies means double the fun and double the trouble. When it comes to organizing a Montessori bedroom for twins, it is double work – creating stylish decor and maintaining sibling relationships at the same time.
First, ensure your Montessori shared bedroom isn't hectic, overstuffed, or cluttered.
Second, color-code each kid's space. To avoid who-does-it-belong-to questions, assign a color to each kid's belongings. Not only will it make the shared room look stylish and neat, but it will also let you know who borrows things without asking.
Third, let the little ones self-express. Just because the bedroom is shared doesn't mean kids can't put their personalities on display. Let them choose the color palettes, toys, and other accessories to feel they control the creative part.
The result is a stylish space that affords its owners some individuality.
2. Tips for Montessori Girl Bedroom
Raising a little princess is precious. All these unicorns, clothes, tiaras, jewelry, Barbies, makeup, and… Does opening the door to your sweetheart's room seem like transferring to the kingdom of mess? If yes, consider setting up a Montessori-style little mini apartment.
Start with the clothes. A small personal wardrobe is a great way to develop organization skills and have all those fancy dresses displayed nicely at your girl's level.
Jewelry and makeup are essentials of a little prince's routine. The Montessori-based storage method enables you to gather all the stuff in ONE location.
Let her know how she grows up and track her progress! Cute toddler girl Montessori toys like height charts and photos taken in front of one will turn into the most priceless memories as time flies.



Think about the accessories. Let your young lady decide how to decorate her room. Go for posters of her favorite animals or dynamic wallpaper. Stay away from vibrant or dark colors. Instead, try to choose tones that brighten up the space and create calm, such as warm colors.
And, that's it! We hope our quick guide on how to set up a Montessori bedroom was useful enough to help you prioritize order, independence, and accessibility in the space.
The Montessori-inspired bedroom is a fun and exciting project for both the room owner and you. It is important to have elements of comfort combined with elements of fun and learning. A great storage space, a neatly organized care-of area, a free play space, a comfy floor bed, artwork, and décor (all placed at about the child's chest or eye level!) are a must-have to give kids an environment that meets their needs.
If you stick to the minimalistic approach with nothing unnecessary in the space, Montessori bedrooms ideas will help you choose a design that can grow with your kid's interests and taste.