Importance of Kitchen Pretend Play for Kids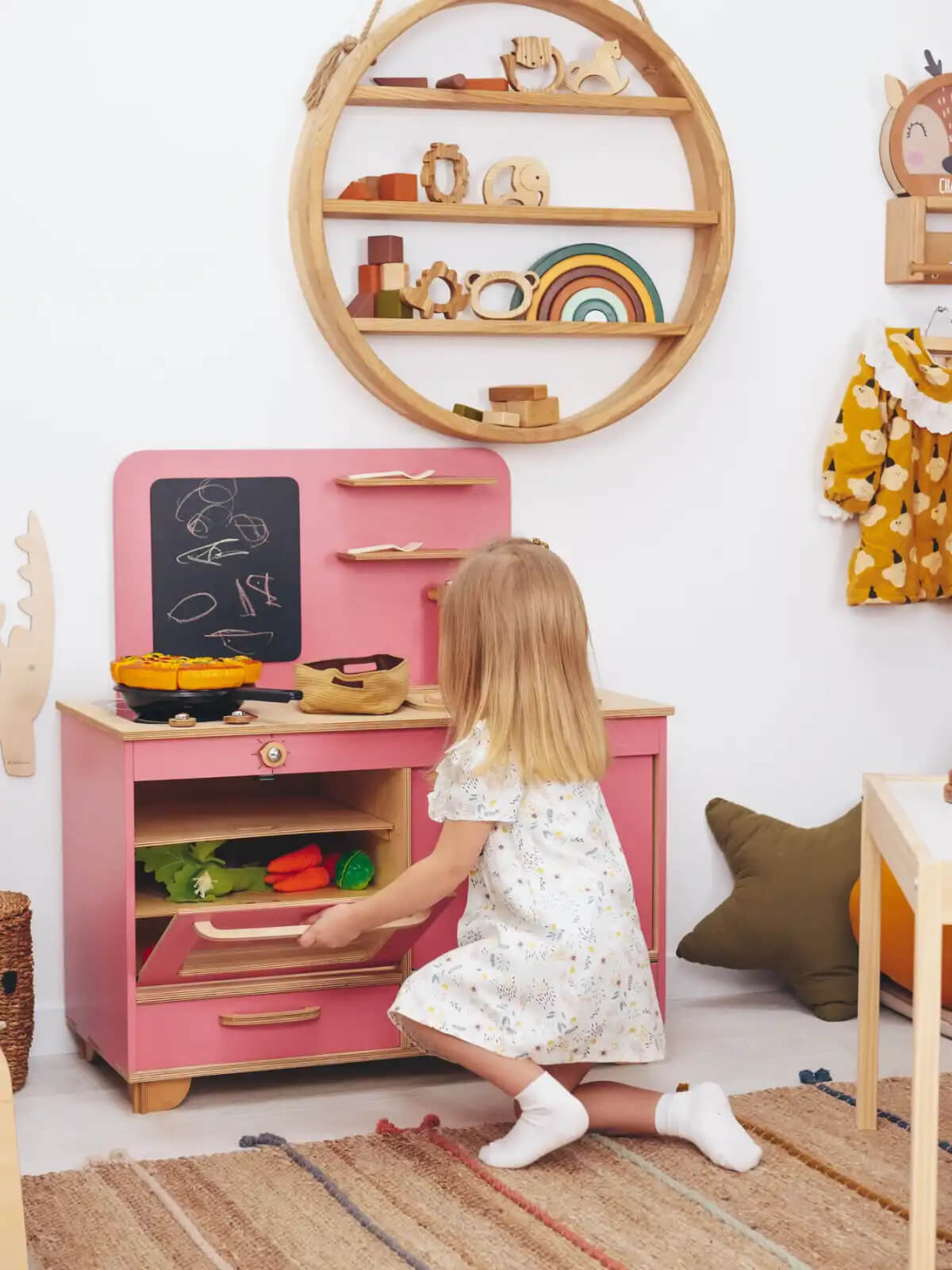 On This Page:
"I'm always the hostess. I mean, even when I was little, the girls brought their dollies to my tea party. I served the best air." The line that Monica Geller from the 'Friends' sitcom is famous for demonstrates the importance of pretend kitchen play. The twenty-something sous chef proves that trying the imaginative roles of a chief or a welcoming hostess paves the road for the most exciting life scenarios. Who knows, perhaps, today's primitive game might be the basis of a long and lucrative career in culinary arts.
OK, let's take one step at a time.
Kiddos love make-believe play because, well, it is fun. It's a chance to explore both the world of adults and childish imaginative scenarios that adulthood seems to lose access to at some point. Read on to get a better idea of pretend cooking and its benefits for toddler development.
What Is a Montessori Kitchen
A popular toy for pretend play is a fake kitchen set-up. Technically, this simulation isn't a montessoriano thing itself. Nonetheless, the functional plaything is. The best way to introduce children to cooking sessions is in an actual room where food is prepared. As an alternative, however, a Montessori play kitchen can guide the little ones through the art of cooking and presentation of food in a form of an interactive play.
However, it is not a toy. While the latter is about pretending to cook and clean (rarely resembling what actually happens in a kitchen), Montessori-themed items provide a functional environment to learn, practice, grow independently, and…
Develop and boost fine motor skills (mixing ingredients, slicing, kneading dough, and other activities work well for little chefs' hands).

Hone self-esteem & communication skills.

Cultivate pleasure and desire to work.

Learn to keep things in order (putting dishes away, placing utensils on their special shelf, etc.)

Make an

effort

and be happy about the results (ensure to notice and praise it!).

Enjoy the moment without parental involvement.
What Age Are Play Kitchens For
There's no particular age signalizing the little one is ready to try a chef's hat and an apron. The very moment you see them walking, imitation of adults' behavior will become part of the routine. As soon as they start showing interest in your kitchen rituals, feel free to implement the Montessori playset to home game sessions.
Don't rush a little chief, however. Kids tend to start copying what they see at different times. As a rule, a 16-18-month-old child might show some interest in a play kitchen for toddlers. Make sure to help them test their power of observation and imitation at their own pace:
Infants

are good at making dough. At the age of 1-2 months, parents should guide them through the process.

Toddlers

copy all the moves you make. Mixing ingredients, slicing, peeling, setting the table, etc.

Preschoolers

can be involved in activities like tossing salad, squeezing the juice and pouring it into a glass, and so on. Plus, they can turn the tap to wash their hands.
Let them see you turning the festive turkey recipe into reality. When appropriate, allow your cherub to wash a Christmas-themed plate. Show how you slice the lettuce. Children are excited about every stage of meal preparation! However, the world of cutlery is not the safest place for a baby. Providing them with a personal kitchen set crafted according to the Montessori philosophy will give you peace of mind.
What Age Outgrow Play Kitchen  
Cute kitchenettes grow with little cooks. While a baby can't bake and slice, they're excited about the clicking sounds of cupboard doors as they open and close them. Time flies and cooking sets contribute to language and vocabulary development. Older gourmets can practice their writing skills by listing the menu options for their imaginary shop or café.
As the years add up, moms and dads can supply the set with various age-appropriate accessories, such as toasters and blenders. When it comes to playing potential, only the sky is the limit!
Now, when's the culinary game over? No particular age would be the correct answer. Even if you're a happy parent of a preschool-aged kiddie, don't just write off your child's kitchen too soon! Unless your place really lacks space, keep the set. It's typical for the little ones to leave toys and get back to them later as if nothing happened. Give a chance to the future cordon bleu genius!
How to Make a Play Kitchen Functional
There are two important rules in an inspired pretend play: the kitchen should be as functional and realistic as possible. It should resemble an actual place in your home and include only life-like features of it. Ingenious minds of ChildUniverse company joined creative forces to list some of the key tricks to make a play kitchen functional with minimal effort. Voilà! 
Incorporate a

cutting set

into pretend play to help your child with a festive dinner for the whole family.

Add a

Montessori knife set

to the kitchen tools assortment. Made of quality wood, the knives are non-toxic and safe to use. They stimulate your kiddo's interest, make them part of the cooking ritual, and don't hurt sensitive hands.

Add a pop of color to the world of imaginative cookery with a wooden

food set

. Designed with smooth-edge, wooden veggies and fruits are safe, durable, and colorful. The latter is quite helpful when it comes to color perception. Kids can play with all those bananas, potatoes, cucumbers, and carrots with their peers and family members, pretending to be MasterChef or skilled assistants of their moms and dads. 

Teach them the importance of

cleaning

.

Montessori functional kitchen

can't be without cleaning materials. Ensure to provide the toddler with a couple of cloth napkins and towels together with a trash bin. For some unknown reason, kids love sweeping the spills; however, it is important to be patient and appreciate their efforts to deal with messes. 

Add some

water

. If there's no running water in the kitchen, make sure to provide it either in a traditional form or as a water dispenser. Playing with real running water gives a strong feeling of a real-life adult routine. Besides, it's a great chance to teach children about the value of water supply and the importance of saving water.

Include a

snack area.

When it's dinner time, provide your child with all the ingredients and let them focus on the food-making process. Have them set their place in their Montessori-inspired universe and unchain their creativity!
What Are the Benefits of Pretend Play
Need some fun make-believe ideas for kids? Well, there are just a few things more captivating than watching them trying adult roles in the wildest imaginative scenarios. After all, it's like watching a LIVE of their ideas, thoughts, viewpoints, dreams, and interests. While this kind of play is usually spontaneous, you can inspire excited little dears by providing them with the right tools like a kitchen set. The benefits of pretend play are endless, but we'll cover the most important ones:
 

Social-emotional development

. As they bake a unicorn for dinner or toss the salad made of the most extraordinary ingredients, they communicate with buddies or family members. Not only will they discuss what is on the menu, but they'll also help each other to prepare the yummy masterpiece. Get yourself ready to taste it.

 

Cognitive development

. Cooking something as simple as a salad or sandwich encourages kids' creativity, logical and problem-solving skills. It also provides children with space where they can apply their knowledge and imitate the way you interact with food. This requires them to measure, count, and follow a sequence and the cause-and-effect principle.

 

Physical development

. Not only will the kitchen simulator get the creative juices flowing, but it will also boost the physical development of a taste tinkerer. Free movement, fine and gross motor skills training, understanding the basics of healthy nutrition, and physical activity needed to prepare meals – all these are just some of the ingredients of proper physical development.

 

Language development

. Unless it's a solo play, cooking is all about talking, sharing, discussing, debating, and looking for answers. Allow little chefs to practice communication with each other to decide what should be cooked, sliced, baked, cleaned, and (most importantly) who's going to do that. This will 100% broaden communication and language skills.

 

Teamwork skills

. Working on the same project in a team is a sort of art that even some grown-ups fail to master. In the play kitchen environment, kids have a chance to get an idea of what teamwork is and why it is important for successful culinary outcomes.

 

Self

-

explanation & self-expression.

You know how virtuously they can express their inner world via art (you see it pinned to your fridge). Now, provide them with an opportunity to express their emotions and ideas via cooking.
Adding a cherry to the top of
everything mentioned above,
kitchen make-believe isn't just a fun activity for toddlers. It's like life in miniature. It fosters creativity by providing an inspiring and safe environment to act out situations that kids can't experience in real life. It promotes cognitive and physical development but in a form of entertainment. It adds to language and social skills progress. Finally, when
le chef d'oeuvre
is served, a strong sense of pride and confidence comes into play. They imagine the most appetizing scenarios, make mistakes, find the way out, and
get inspired
to deal with more tasks as they grow older. And you know exactly what they look like.
You.
2 comments