Benefits of Puzzles in Early Childhood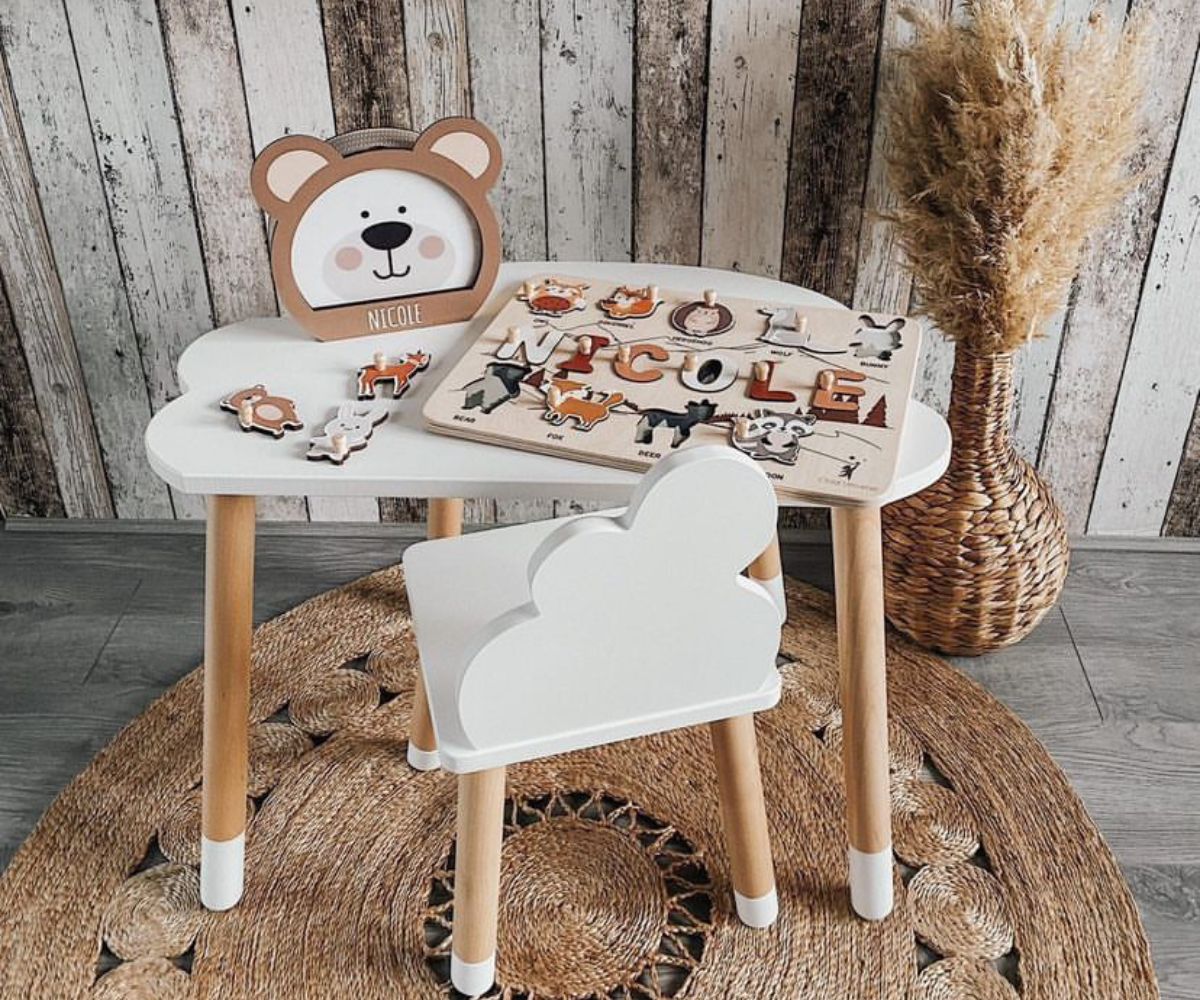 On This Page:
The simple things are also the most extraordinary. Of course, hardly in his written artworks, Paulo Coelho was referring to puzzles for toddlers. Yet, no other quote can better describe these whimsically shaped interlocking mosaiced pieces little angels are so attracted to. They grasp, flip, turn, and put the fragments together to enjoy a sense of achievement and pride within themselves once the job is done. Playing with brain teasers in early childhood encourages kids to think critically, solve problems, plan, and simply have fun during safe solo play. Apparently simple at first glance, jigsaws are excellent learning tools with a bag of benefits.
What are they? Keep scrolling.
#1 Fine Motor Coordination Activity
Here, of course, we're talking about the pastime that includes the use of small muscles engaged to properly accomplish movements and tasks. As tots develop their motor skills, they need less help with important processes like eating, drawing, zippering, creating, etc. All the abilities we've just mentioned develop step-by-step through trial and error, as well as exposure to various learning tools, including brainteasers.
Good control is part of the process as they pick up details, flip them, or hold them to join together. It is these small fragments that help strengthen little muscles to give a sense of control eventually.
#2 Visual Perception Activity
Simply put, visual perception includes recognizing patterns, objects, shapes, forms, and images on puzzle fragments. The bambino curiously examines all the pieces while the visual information gets transmitted to the brain. It's the gray matter than comprehends and analyzes what your toddler makes part of playtime.
The number one reason to include visual perception activities in children's playtime is that they help us understand why two fragments connect and what bigger picture they're part of. Plus, jigsaws work well for parents looking for pre-writing activities that won't bore their kiddies.
#3 Child's Attention Span
Look at your kid immersed in the world of picture riddles. What is it that makes the process different from some regular play? It's that the little one needs to pause longer than usual to focus on the task at hand. If your child's attention span is about a half-minute long, you're saved! Wooden jigsaw puzzles for toddlers work magic when it comes to getting your kiddo to focus 100% of their attention, without getting distracted. Sooner than you know, your queenie will learn to concentrate on one thing for a sustainable period of time, even if today they get impatient or give up too fast. In other words, if the concentration had muscles, you know what would be an effective way to build them.
#4 Independent Play for Toddlers
One of the biggest benefits of puzzles in early childhood (parents, rejoice!) is that you don't have to be part of the game. You're free. Enjoy the taste of freedom while a busy mind happily plays, explores, connects, and (let's face it) tastes quirkily cut fragments. In addition to being a magic wand for parents whose kids are looking for adult attention non-stop, independent play for toddlers also helps kids learn the joy of solo playtime. They make decisions, let their imagination go wild to eventually feel the joy of the I-did-it! moment. Something adults generally lack. 
#5 Confidence Building Activity for Kids
Now, this might be as useful for those in pampers as well as someone who already has an ID. Just picture the following scenario: You've been working for hours on that Van Gogh starry night-themed puzzle. Voilà! The last fragment finds its position. Subconsciously, you add it to your list of achievements. Needless to say, you feel your self-worth leveling up with the speed of light. If it works as simple as that for you, imagine how excited the tot is going to be when the struggling through jigsaws is over. These confidence-building activities for kids are sure to prove they can accept problems, overcome challenges, as well as deal with frustrations on their own. Priceless skills for adulthood get harder than the hardest at times.
#6 Relaxation Activity for Kids
One of the reasons why so many adults choose to juggle shapes and pieces after a hectic office day is because it helps them calm down. Some kind of meditation if you want. Basically, assembling puzzles hits the list of relaxation activities for kids for the same reason. Once the active play session is done (and your house looks like a mess), get the energizers puzzling! Matching pieces together is a great way to keep them both entertained and relaxed while serving an educational purpose. Even though silence is known as a scary find for parents, it's all they crave when balancing on the edge of parental burnout.
Where Can You Purchase Wooden Puzzles for Toddlers
Today, youngsters as little as 3–4 years old spend lots of waking time plugged in. It means to divert their attention from cartoons, video games, and other pixel content, you have to provide a decent alternative. Great for parents and kids (and an earth-friendly solution for modern world gadgets problem!), jigsaw puzzles break stereotypes. A seemingly simple set of whimsy pieces makes good use of a child's spare time just like any kid-friendly video game.
With so many brain booster brands out there, picking the best toys while juggling your kiddie's wants and needs can be tricky. To ensure their indoor or outdoor playtime is as safe as it is fun, choose quality blended with safety which is embodied in products under the brand ChildUniverse. To give children the best start in life, the company reps make their products gender-neutral, fancy, and intricate enough to stimulate every little client's imagination.
Puzzles for Toddlers – At What Age Can Be Effective
The reality is that babies do not understand basic jigsaws just like they have zero skills needed to assemble them until they turn 2. This is the age to try out Montessori puzzles for 2-year-olds that are age-appropriate and made of non-toxic materials. Your pumpkin will enjoy exploring shapes, colors, and irregular cuts that capture their attention. Encourage imaginative play and set a solid foundation for more advanced play with brain teasers that contain several large pieces.

A fun fact here. Many moms and dads tend to have the same question - when's the right time to introduce more complicated jigsaws with five or more fragments? For the love of God, do not rush things! Leave that for preschool age.
Why are puzzles good for toddlers
? Now you know the answer. They're fun. They create learning opportunities that stave off boredom and keep your bundle of joy entertained for hours. Playing with puzzles encourages children to develop
perseverance, hand-eye coordination, and finger strength. Besides,
they let them practice relationships with others in their micro
yet
colored-with-magic world. And as for you, guys…Do not hesitate to join the play! After all, it's part of the fun of being parents.