5 Interesting Ways to Use Wooden Name Puzzles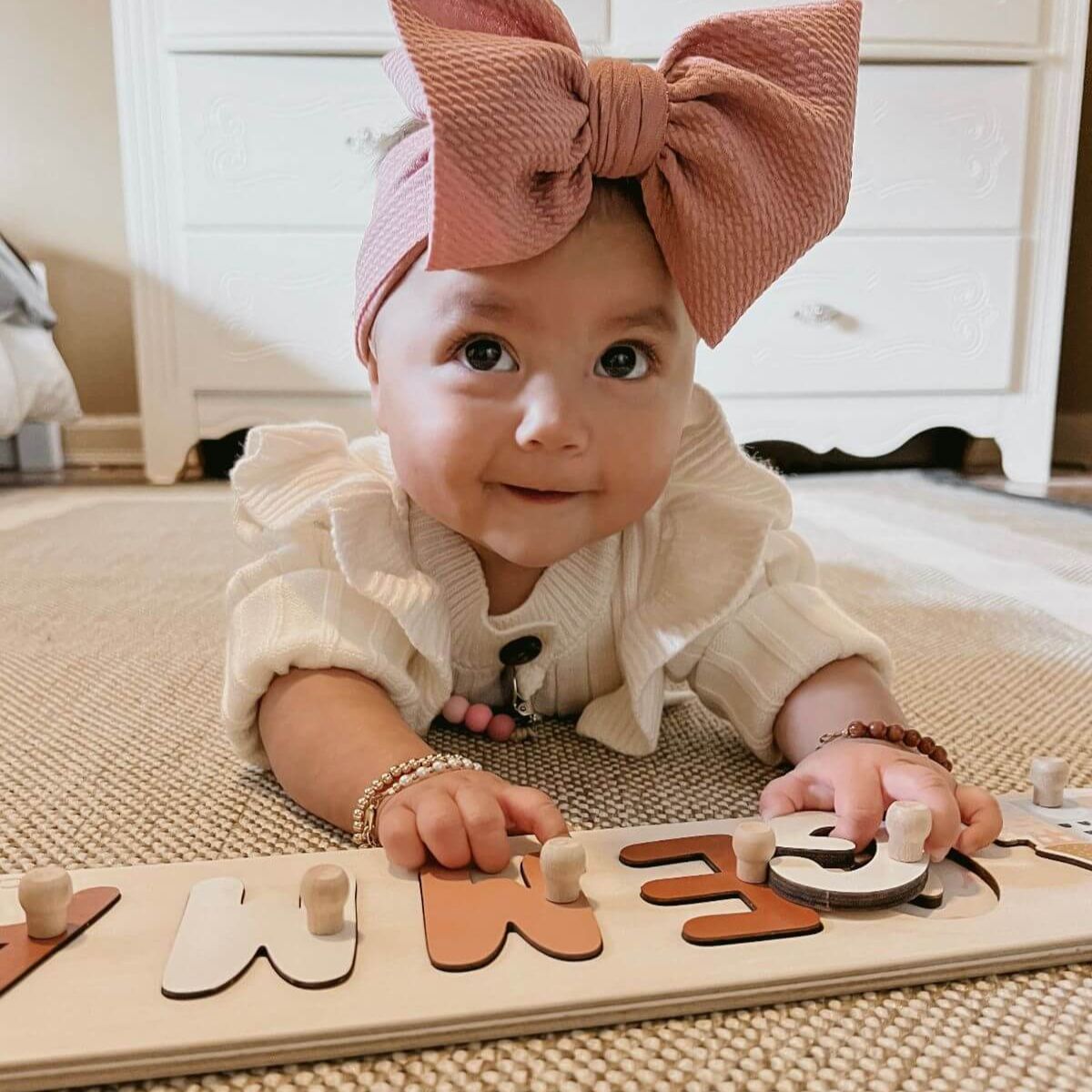 On This Page:
There's nothing extraordinary about name puzzles. Typically made of wood and wood products, these toys have neither chips nor highly saturated colors that kids are very attracted to.
But there is one thing.
All over the globe, all ages have fun manipulating little fragments with a smoothly finished surface, grabbing them, testing their durability, and putting them back. A wooden name puzzle has become a perfect option that encourages independent solo play as early as possible. Based on multiple pieces of research, putting this kind of toy in front of a little one can guarantee cognitive success at 2, 3, or 4 years old. Made with a pinch of creativity mixed with lots of love, baby name boards check loads of development-related boxes.
What else is there?
Below, we'll navigate top activities with personalized wooden name puzzles and see how a must-have classic can help your kiddo hit all the milestones.
#1 Toddler's Name Recognition Activity 
With a personalized name puzzle being part of playtime, your kids can memorize their names in a couple of days. However, excited parents should keep calm and never fret if the little ones do not learn everything right away. The reality is that all toddlers are different. They reach developmental milestones at different periods of time.
Don't force it!
Instead, provide quality age-wise accessories that help kiddies develop a strong sense of competence as well as self-mastery in handling their lives. With wooden name puzzles from ChildUniverse company incorporated into toddler name recognition activities, you will see your baby progressing at their own pace sooner than you know.
Now, if you wonder how to practice name recognition with your toddler, we say – easy peasy with the games below! What are they?
Display the puzzle. Now tell your sunshine to take out all the pieces. Now mix them, then ask the tot to recreate their unique name.
What letters are in their names? Ask children to say how each letter is different from the rest. Make sure they repeat the words as they go.
Arrange a parallel play. Apart from solo spelling their names, children will love assembling their pals' puzzles together. Your task here is to ask best friends if they have the same letters on their boards and pronounce them of course.
#2 Size and Shape Identification
There are no better assistants than personalized wooden toys when the question is about learning how shapes like squares, circles, triangles, and other geometrical figures differ from each other. It's no doubt your little Pythagoras believes things like rectangles or squares do not differ. Step by step, they are getting better at catching the smallest details that make shapes different.
Made of a child-appropriate size, a cute puzzle teaches shape identification and activates the imagination in the form of engaging play. If you don't know how to use wooden name puzzles to maximize the learning process (and minimize the stress of course!), explore the various games listed below to find what works best for your little learner. You'll see that learning shapes and sizes have never been more creative!
Sorting by size. Use personalized wooden toys to focus on comparing the objects by size, then sorting them from smallest to biggest and vice versa.
Match the shapes. This one is somewhat similar to the previous game. Let your smart player explore all the fragments of the puzzle and sort them based on identical shapes. Simple as it may seem, the game will keep the toddler busy thinking about the variety of shapes at hand, even when the fun time is over.
Explore textures. Practice the shape concepts by having your child experience different tactile sensations. If your home arsenal includes wooden puzzles that combine a few textures, ask your sweetie to explore them and sort elements into categories with the same texture.

Why is this important?

Despite the seeming simplicity, a personalized wooden name puzzle is a fantastic learning tool that teaches youngsters loads of essential life skills, such as concentration, shape recognition, hand-eye coordination, and problem-solving skills.
#3 Learning Alphabet Letters
You've probably noticed that some babies are chatty talking a lot on and off, while others are naturally quieter. However, all youngsters can benefit from learning letters and new words. As a parent, you already know that reading or storytelling helps children learn about words, sounds, and language in general. That's true, but why not make the process more fun and interactive? With a double name puzzle incorporated into your child's routine, learning alphabet letters and sounds takes place in a literacy-rich environment. The more letters the puzzle consists of the better. See how they put letters in alphabetical order and compose their first own words!
#4 Color Recognition with Name Puzzles
When can toddlers identify colors? Scientists say that a kid's color-identifying ability peaks at 18 months. The same age when they realize that textures, sizes, and shapes differ as well. The easiest way for practicing color recognition is by working with whatever you have around the place. As a rule, parents start with fruits and veggies in the hope kids might finally have less disgust for the latter. Luckily, you can grab name boards as well. And you don't stop at yellow, blue, red, or green. They can do much more! There are multicolored puzzles that comprise details pained non-conventional colors that will keep your child's attention. Help them define and differentiate between the existing colors with fun activities:
Same color hunt. Your child could be grouping together name puzzle fragments of the same color. Make sure they repeat the color name as they manage the task.
Get the color hues into the game. If the kid is in a colorful mood, introduce them to the so-called color transitions or gradients. Ask the little ones to arrange the units from lightest to darkest and vice versa.
Just build it! See how color recognition boosts the little one's creativity – ask the babylicious architect to build a tower of a particular color and…well, let them destroy it. Kids love it.
The best thing about this kind of interaction is that it also reinforces listening together with fine motor skills.
#5 Learning Animals with Personalized Name Puzzles
While most people believe gadgets are the only way out, personalized name puzzles with animals prove introducing fauna to toddlers can be done offline. Designed for your child exclusively, name puzzles are as fun as they are educational. On top of distinguishing colors, forms, and sizes, children learn animal identification and, as a result, the sounds the forest pals make. At this point, make sure you start small. Do not overwhelm your baby with the whole jungle population. Instead, use the name puzzles beautified by the cute pandas, rabbits, bears, horses, owls, wolves, and…dinosaurs. Not only will your little pumpkin know more about wild and domestic animals, but they will also learn the sounds they make. Umm, any ideas for dinosaurs?
All the activities given above aren't beyond kids' abilities or time-consuming. They're doable and quite entertaining. After all, helping them meet color recognition, name reading, or any other milestone doesn't have to be anything but encouraging and fun. So what are you waiting for?