Story Time Ideas for Toddlers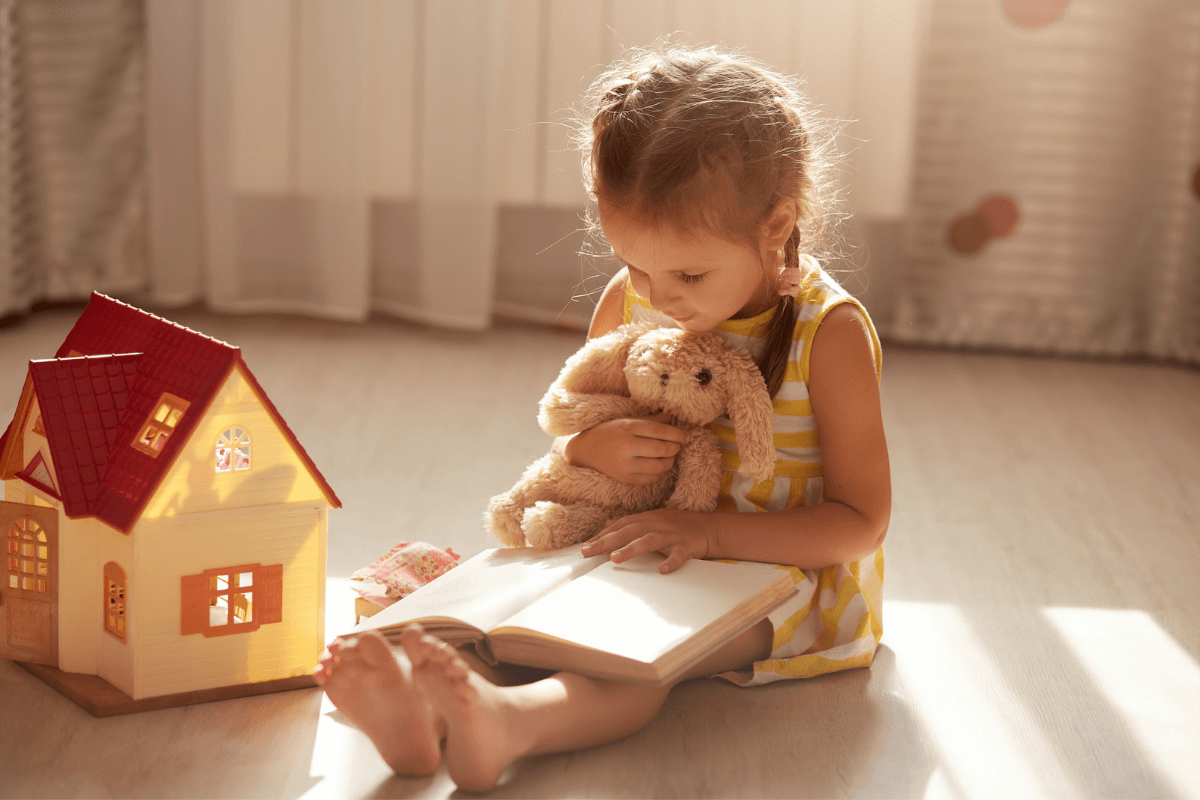 We're all made of memories. When adulthood kicks in with the bills, chores, and relationship problems, we save ourselves by mentally time-traveling back to the sweet childhood episodes. We relive them in vivid detail as a free antidote to a vicious reality. When it comes to the most cherished reminiscences, story times before drifting off to La La Land usually pop up in the top five.
If you're an avid reader looking for ways to get kids involved in the reading sessions, we've got something to say. With the story time ideas for toddlers below, you will pique their curiosity about hearing a new story and create long-lasting happy memories that money can't buy. Here's how.
1. Use Engaging Visuals
While visual effects work for adults at cinemas, why not incorporate some visuals into your baby storytime plans? Go for materials with clear and vivid imagery that supports the storyline. Get a child interested in reading with books that have colorful illustrations bringing those funky characters to life. Start bit by bit, using the most straightforward items like a name board for a baby, and proceed to the wordless books with illustrations that grab kids' eyes. Your little listener will love some of the all-time best books, like "Press Here" by Herve Tullet, "Love Your Forever" by Robert Munsch, "Little Blue Truck" by Alice Schertle, and many other must-haves for a home collection.
2. Introduce Puppet Shows
If you lack interactive storytime ideas, a puppet show is the answer. A little monkey, kitty, or dwarf can introduce a story or serve as props. That cute puppet can make new friends, travel the world, visit the doctor, or get lost in the woods. The best thing about this time-tested technique is that anything, including your multicolored socks, can become a puppet character in a story. Ensure to let kiddos use puppets themselves to come up with their narratives and make them part of independent play.
3. Encourage Participation
While toddlers can't read independently yet, they can become part of your story! Read-alouds of interactive storytime books will surely encourage children to participate and do the play. Let them! Not only will active participation boost their critical thinking skills, but it will also spark a love for reading that will serve them in the future. Using the tricks below, you are sure to provide your tots with the best interactive experience possible.
Ask!

Make regular pauses to ask kiddos questions about the story's characters, plot twists, narrative morals, or anything else connected to the reading.

What's next?

Involve your gang by asking them what might happen next in the story. Let them share some wildest 'forecasts' and develop vocabulary as they go.

Be expressive.

Now, it's time to tap into your full storytelling potential! Use voices, facial expressions, as well as famous dance moves to excite the tale. Feeling silly? Excellent! Go on.

Mix things up!

Don't focus on a single book. As an alternative, jump between plots, universes, and books. How about making Cinderella skip that royal ball and, let's say, fight space monsters in another galaxy instead?

Include role-playing

.

How to get kids to listen during story time

? Add more drama! Role-playing enables little ones to redo any scene under various conditions in different roles. Tell them your story outcome depends not on the script this time but on each of them.
4. Incorporate Music and Singing
From timeless folk classics like "Pop Goes the Weasel" to "Row, Row, Row Your Boat" that make storytime planning more fruitful, include sing-alongs or set books to the rhythm yourself. There are also unparalleled classics like "She'll Be Coming 'Round the Mountain" or "Down by the Bay" with loads of lyrics that were meant to bud little language learners. 
5. Create Story-Related Crafts
Art is always a good idea. So make it part of the story time games. When the narrative is over, let toddlers know that now comes the part where they can express their experiences and emotions through crafts. To make their first storytelling craft prompt successful, provide all the supplies like kid-friendly scissors, highlighters, cardstock paper, glue sticks, glitter, origami paper, etc. Tots are full of creativity, so go ahead and let them know there are no limits. It's all about experimenting, having some genuine fun, and adapting the story heard to items available in a craft supplies kit. Some of our easy and cute ideas can be realized using things you already own, and they won't destroy your home.
Turn snacks into plot characters.

Use veggies or fruits to make funky personages you will use for dinner later.

Paper plate craft.

They will boost their motor skills and make the cutest sun you've ever seen!

Handprint art.

Make some incredibly adorable characters using little hands. Perfect to become a handmade gift for grandparents later.

Nature crafts.

Take a stroll outside to collect materials like leaves, stones, sticks, etc., so that your talented sweetheart crafts their next masterpiece from eco-friendly materials.
6. Explore Different Story Formats
Sometimes youngsters can be overwhelmed with all the letters and phonics you seem never to stop repeating. It is similar to how college and university students spend a ridiculous amount of time in lectures when all they want is a field trip or an ungraded quiz. Introduce storytelling routine in an engaging way:
Use wordless picture books.

Narrated only in illustrations, wordless books are great for all ages. They become easy-to-use tools for early literacy development since kiddos read images like a language. See how excitingly they retell the story and predict what might happen next!

Download storytelling apps.

They're going to live on a device anyway, so grow their imagination using what our digital world has to offer. The Encantos app, with different voices incorporated, helps kids learn valuable life lessons through narratives. With the Shadow Puppet app, they can tell their own stories by combining personal pics, music, videos, images, and text.

Fill in a storytelling basket.

One of our favorite

storytime best practices

! This time, the rosy-cheeked narrator should make up their own story using objects you put in a basket. Collect

any

toys, figures, or objects and see what a story comes out of it!

Construct a shadow theater.

Get some wacky fun characters, a white sheet, and turn the lights off.

The

toddler bed time story

gets to the brand-new level if the

boo!

component is added as well.

Make up a photo story.

Browse photos from old magazines/catalogs or download some online. Ask your pumpkin to pick a picture and tell their story about what's on it. Encourage them to make connections between different photo stories and say phrases. Help them build correct sentences and paraphrase when needed.
7. Make Story
How to plan a story time for kids? Get outdoors! Being in the open air is like getting a bag of free inspiration for storytelling. As an experienced 2-in-1 expert (a proud parent and a prominent author by this time), you don't need much to let your creative juices flow. A tree, a squirrel, and some imaginary characters will do a fantastic job when it comes to grabbing your kiddies' attention.

8. Do Storytelling with Sensory Bins
How to do a story time for kids in both an entertaining and effective way? Make sensory bins part of the routine. They will boost the cognitive development of your little storyteller and help them elaborate the story to gain confidence in making up more. Put the animal, letter, and number shapes into the sensory bin. Now, ask kids to describe colors, shapes, or textures as they learn through hands-on tactile play.
Storytime Themes for Toddlers
Luckily, the list of topics for toddlers never ends. Even if it's one of those problematic evenings when you simply can't think of any story time theme after a busy day, your imagination and creativity are saved with us! You're still about to create cherished memories with your sweet honey because the storytime themes for toddlers below are guaranteed to activate your inner storyteller mode.
#1 Underwater Adventures
Dive deep into the sea from the comfort of your home! Is that a shark? A whale? Or, perhaps, you've already seen The Little Mermaid 2023 and are fascinated by the adventures of a fearless Princess Ariel? Make it part of your next story plot!
#2 Enchanted Forest
Once upon a time, in a dark enchanted wood… here comes the scenario where only your imagination and knowledge of furry inhabitants are the limits.
#3 Space Exploration
Does your honey bunny dream of exploring distant galaxies? Include that in the storytime planning. Put on a spacesuit, grab snacks and their favorite Teddy Bear, and fly into space!
#4 Dinosaur Roar
Delve into the Jurassic Park fun with your kids! With the variety of kid-friendly themes out there, dinosaurs always stay in style. Gender-neutral mostly, these creatures make up the most thrilling foundation for storytelling either before going to bed or as part of weekend fun.
#5 Fairy Tale Kingdom
Classy stories about fairy tales and princes, that morality tale of Hansel and Gretel, the Beauty and the Beast with the emphasis on internal characteristics over physical qualities – the interactive storytime ideas choice is unlimited. Since we all resonate with most fairy tales, they are tremendous and time-tested tools to teach kiddos about right and wrong actions, moral dilemmas, actions' consequences, and conflict resolution.
So, what's the point of storytelling? 
They teach, entertain, and get little minds busy for hours. But what's really valuable is that it gives you adequate quality time spent with the next generation. This will provide them with intangible things to look back upon as grown-ups in a hectic reality – to the times when the Christmas trees were tall, and the world was a wonderful place.