10 Effective Ways How to Increase My Toddler's Vocabulary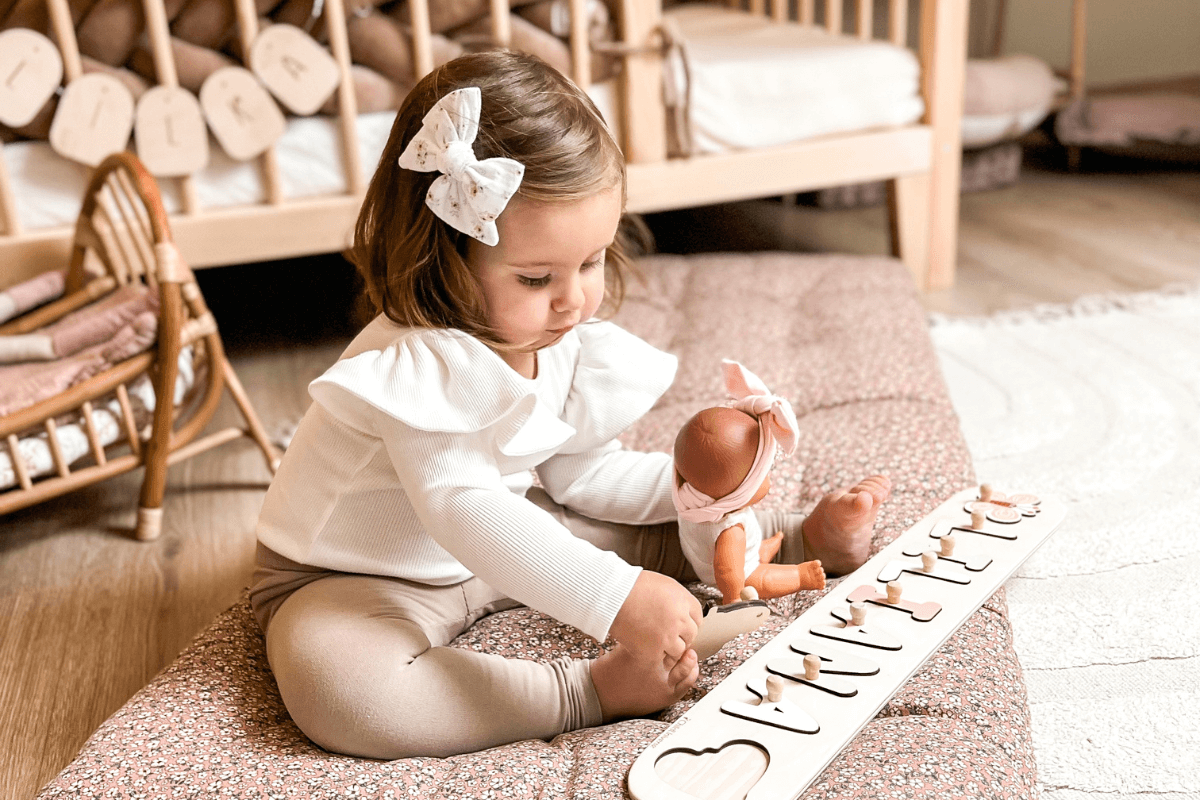 They cry, coo, and babble… So effortlessly and adorably that you can watch them for hours. Automatically radiating a solid sense of joy and calmness, babies can allay any sadness and make any anger fade away. But when it's time for the art of putting sounds together into words, there's bound to be something that will go wrong. Busy little beings just…don't rush to express themselves and absorb new words.
No worries!
Below, we'll go over how to increase toddler vocabulary to help you encourage your little babbler to switch from meaningless "gaa-gaa" and "goo-goo" to expressive lexis.
Toddler Vocabulary by Age
As a new parent, you may be struggling with thoughts like, "How many words does my child really have? How to expand my toddler's vocabulary without being too pushy?" You won't be the first nor the last who wonders about that. First and foremost, there's no exact number of words that kids should know at a particular age. There's just the so-called expected or approximate number that is considered appropriate at different ages.
What Is Normal Vocabulary for 2 Year Old
By this age, you can partly understand what a toddler is saying. Along with gestures, sounds, and made-up words, they understand and say meaningful words, primarily nouns ('car', 'eye', 'me', etc.). A little while later, they focus on verbs, such as 'see' and 'eat'. Next is using adjectives like 'red' and 'big'.
As said by Dr. Jay Hoecker, an emeritus member of the Department of Pediatric and Adolescent Medicine, the average vocabulary size 2 year old kid has is 50-100 words. Keep in mind, though, that every 24-month-old develops at their own pace, so don't expect them to become a walking dictionary overnight.  
Typically, the most common toddler vocabulary list doesn't go further than…
Mommy, Daddy, Eye, Baby, Milk, Nose, Cookie, Book, Hello, Bye-bye, Yes, No, Cat, More, Dog, etc. 
What Is Normal Vocabulary for 3 Year Old
Ah, they grow up so fast. Sooner than you know, your munchkin draws your attention with simple yet concise 3–4-word sentences. Their curiosity is 100% activated, resulting in conversations with at least 2 back-and-forth interactions. An average vocabulary size of 3 year old demonstrates is usually more than 200 words. In most cases, you can understand what they say. And that is much more than you could imagine in your pre-parental era!
At this point, the core vocabulary for toddlers includes:
Small, Little, Shoe, Candy, Dirty, Mama, Cat, Close, Hat, Banana, Ice-cream, Stand, Papa, Fast, Doll, Book, Star, Rain, Hand, Nose, Slow, Fast, Monkey, Elephant, Brush, House, TV, Apple, Fish, Hello, Balloon, Cold, Hot, More, Thank (you), Small, Big, Catch, Flower, Water, Grandma, Grandpa, Stop, etc.
How to Start with Teaching Words for Toddlers
In the research published in Psychological Science (2013), Stanford University researchers point out that little ones exposed to more vocabulary words for toddlers from early years have a richer lexicon. Besides, they're more motivated to pick up language without much effort later on during school years, as stated in the "24-Month-Old Children with Larger Oral Vocabularies Display Greater Academic & Behavioral Functioning at Kindergarten Entry" research.
To turn learning first words for toddlers into an enjoyable adventure where no one bursts into tears, we offer you a set of simple steps. By taking each, you will soon witness the process by which a toddler demonstrates rapid vocabulary development and…oh well, have a sigh of relief.
Read.

Reading never fails in teaching your little cherub a word or two, whether it's a bedtime story or a lazy Sunday afternoon pastime.

How to develop reading habits in a toddler

?

Consider activities, clothes, toys, as well as other items directly anchored with their interests. Include stories on those subjects in your reading routine. 

Talk, talk, talk.

Nothing can replace a

live

conversation. Verbalize all of your activities. Name the things as you take them. Not only will it make

teaching words to toddlers

less challenging, but it'll also make them feel valued and loved.

Sing.

Anything works here. From those familiar YouTube songs for little music fans to the ones you make up just for fun – pick whatever your child is more excited about and articulate the lyrics correctly.

Connect with other kids.

Mingling with other children is not only about learning to be friends. Peer communication is also one of the

effective strategies for expanding toddler's vocabulary

. They play, talk, argue, and develop conflict-resolution skills. All in one!

Repeat.

Now, let us take you back to those embarrassing Spanish lessons at high school. What was the whole language learning thing about? That's right! Repeating new words

over and over again

. This primitive yet effective technique helps your brain absorb the vocabulary and retrieve it easier, amigos. 

Focus on their interests.

Every

toddler's vocabulary

is the reflection of kids' interests. Consider their personality when picking the first topics to derive some lexicon from. Start with toys, animals, body parts, colors, etc.

Engage their senses.

Is the fun over? Now, ask the cherub to describe what they

heard, felt, tasted, smelled,

or

saw

during playtime. You will get them talkingas well as encourage analytical thinking along the way.
Whatever your approach to early language development for toddlers, the key is to relax, have fun, and let them see their (lifelong) learning journey as an enjoyable experience for you as well.
What Activities for Toddlers to Teach Vocabulary Words
As stated by the report compiled by the National Reading Technical Assistance Center, exposing kids to specific vocabulary regularly raises the possibility of understanding and remembering new words and using the targeted lexicon more often. You are only required to incorporate vocabulary-building activities that are kid-oriented, encouraging, and safe.
There's a lot that you can do:
Picture flashcards.

What better way to practice a kid's vocabulary than using bright-colored illustrations? Surf online for various printable flashcards indicating written text, or get a

Child Universe name puzzle

to boost fine motor skills.
Word puzzles.

Tested over time, puzzles have already proven their effectiveness in educating the next generations. Whether it's a no-image gradient, abstract, or

wooden alphabet puzzle

, the item is a great tool to pass the time

and

learn spellings.
Story time

. A fun bonding activity, story time is essential to vocabulary acquisition during early years. All existing

story time ideas for toddlers

vary; choosing those with the vocabulary used daily is advisable. This will help fidgets understand the difference between 'make-believe' and 'real'.  Plus, kids will learn the value of books that might help them become avid readers in the future.

Sensory Bins

. Beans, noodles, rice, marbles…

All

serve well in engaging kids in a fun way while teaching them new words simultaneously

. Incorporate items of different colors, textures, and forms to teach concepts and activate all their senses.

Alphabet Hunt

. If you wonder, "

How to increase my toddler's vocabulary

and

introduce letters meanwhile?" the

ABC wall decor

is the answer. Ideal for beautifying

any

playroom, bedroom, or nursery, alphabet stickers, images, posters, and photos will remind children that learning letters shouldn't be overwhelming.
Rhyme time

. First of all, rhyming is fun. It's an excellent opportunity to laugh and strengthen your children's language skills. Kiddies learn the sound patterns of their mother tongue and notice many words have identical letter sequences. Finally, rhyming is the answer to

how to stimulate creativity in everyday activities

question since it's usually associated with singing songs.

Puppet play

. Puppets are an entertaining approach to learning something new, doing

toddler vocabulary tests

(if needed), and strengthening kid-parent bonding. The play can include singing songs and rhyming, as well as teaching kiddos some great moral concepts,

healthy eating, safe behavior, etc.

Sorting games

. The simplest sorting or grouping task contributes to a kid's cognitive development and strengthens numeracy vocabulary. Ask them to

play stackers

and explain why they put details in a specific order. Let them explore the shape and texture of every detail and name them

or

repeat after you. Learn more about all the benefits of stacking toys

here

to

help toddlers reach critical developmental milestones faster.
Nature walks

.

How to teach a toddler to talk

? Approach one of the best teachers available for free – mother nature. There are loads of outdoor

toddler physical activities

, so pick the ones your child prefers and help them link the words to what is heard, done, felt, or seen.

Just art it!

Kiddos may remember oral language better when learning through creative activities like crafts, coloring, drawing, etc. Let them create while using this time to upgrade their lexicon kit.
Undoubtedly, every other word said by a little cherub is music to your ears. Seeing how they engage in joyful conversations with siblings and are enthusiastic about learning is actual bliss money can't buy. However, if you're a happy parent of a late bloomer, don't become the evil teacher. Be patient. Each child needs a certain amount of time to absorb vocabulary and has a unique pace in achieving developmental milestones. They'll get there eventually. Meanwhile, your job is to motivate and encourage rather than fight off any desire to do anything at all.